Home
>>
Banking & Investments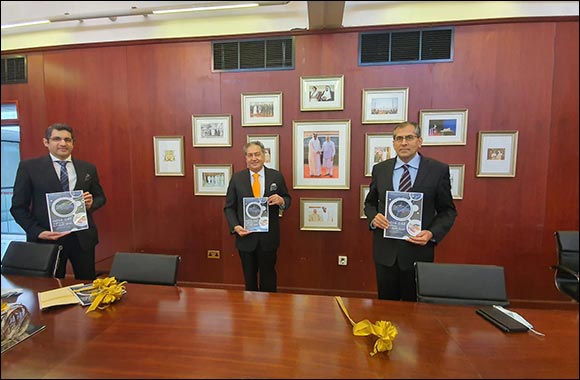 Augmenting India's Electronics & It Trade Between India & UAE: ESC
United Arab Emirates - November 01, 2020: India and UAE share a vibrant relationship and this relationship extends beyond the usual buyer-seller ties. Infact UAE is a second home to many Indians. Today, the bilateral relationship has matured and transformed into a comprehensive strategic partnership as both countries continue to explore deeper cooperation in many new areas.
Releasing the booklet highlighting brief profile of Indian tech companies, Mr Pavan Kapoor, India's Ambassador to UAE, briefed that Indian software products and services are known for their quality and the world is increasingly looking at India as a leading source for them. India has an abundant, skilled workforce to supply, and its technology talent makes it one of the most competitive global markets. India is a leading destination for IT and IT-enabled services worldwide, accounting for approximately 55 per cent market share of the US$ 200--250 billion global services sourcing business in 2019-20.
With an objective to augment India's Electronics and IT trade with UAE, the Council with the support of Embassy of India, Abu Dhabi recently organized a Virtual ICT Business Meet between Indian and UAE industry to promote trade and cooperation in the ICT sector. India and UAE are making good efforts to scale their economic and trade links to new heights and it is anticipated that economic and trade links between India and the UAE will deepen further. And IT could play a very important role in furthering the trade between the two countries, said Mr Kamal Vachani, Regional Director, ESC in Dubai.
Emanation of Electronics and Computer Software Export Promotion Council (ESC) in late 1980's when software export was unknown, when IT export volume was a few millions of dollars and that was limited to the US, now, India exports US$ 155 billion to several destinations, be they developed, developing, emerging or least developed, indicate the healthy status of the Indian IT industry, particularly the software and services said Mr Sandeep Narula, Chairman, ESC. It also goes on to show India's inherent strength in the knowledge industry. He invited UAE industry to explore the world of innovations by visiting the Council's signature annual event- INDIASOFT- EXHIBITION and CONFERENCES, which is entering the 21st edition to be organized in March 2021.

Ever since India has started exporting software products and solutions, strategies and thrust have changed. India has moved to high-end products and complex solutions. Those changes are gradual and enduring, creating better lives world over. The electronics & IT exports from India to UAE continues to show an upward trend. India's electronics and IT exports to UAE in 2019-20 was worth USD 3489 Mln up from USD 2465 Mln in 2018-19, said Mr Gurmeet Singh, Executive Director, ESC.
We are sure that the initiative will lead to further the ICT trade between both the countries, said, Mr Vachani. The growth in export to Middle East countries clearly shows the rising interest amongst the Indian ICT exporting community to explore Middle East and neighboring countries for export prospects. Mr Kamal Vachani invited Indian IT industry to explore GITEX Dubai which will further business between India and the countries in Middle East and UAE in particular.
Home
>>
Banking & Investments Section