Home
>>
Automobile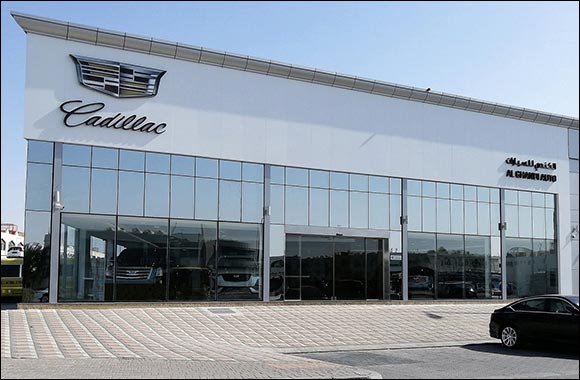 Cadillac and Al Ghandi Auto Unveil New Showroom and Service Centre in Al Ain
United Arab Emirates - November 11, 2020: Cadillac and Al Ghandi Auto, the exclusive distributor of the brand in the UAE, have officially unveiled the new showroom and service centre in Al Ain, marking a new era of expansion for Cadillac in the country. The new showroom will boast exclusive consumer touch points backed by highly trained sales staff and numerous luxury amenities, to better service the brand's loyal customers in the city, whilst the Service Centre combining a genuine parts facility will cater for the current and future owners of Cadillac vehicles in the Emirate and surrounding areas.
Designed to offer customers a luxury experience that is uniquely Cadillac, the showroom and service centre is located in the industrial area, Nahyan the 1st Street, in Al Ain. The showroom incorporates a relaxing customer lounge that will house Cadillac's freshest line-up, including the recently launched CT4 and CT5 and the full SUV line up including XT4, XT5, XT6 and the iconic Escalade
Speaking on the Cadillac showroom unveiling, Mark Jenkins, CEO of Al Ghandi Auto Group said: "We are delighted to announce the opening of our latest Cadillac showroom and Service Centre in Al Ain, giving customers even more opportunity to engage with the prestigious Cadillac brand and its latest offering. The new showroom coupled with our recently launched Shop.Click.Drive. online e-commerce platform, marks a new movement for us in the UAE enabling us to give customers an unparalleled experience through multiple touchpoints, from wherever and whenever."
"Over the years, our exclusive dealer partner in the UAE, Al Ghandi Auto, has been delivering the luxurious Cadillac experience we seek for our customers. We are confident this will continue in the years to come as we further expand and grow the brand in the country." Added Omar El Khishin, Head of Sales for Cadillac Middle East. "At Cadillac we strive to continuously elevate our customer offering, always keeping them at the center of every decision we make, and the new Al Ain showroom contributes to this. This new facility will further cement the Cadillac brand in this part of the country, opening exciting new possibilities for us as well as our beloved customers."
This move follows the recent launch of the Cadillac Shop.Click.Drive. online e-commerce tool that puts customers in complete control when it comes to buying their next vehicle right from the comfort and safety of their own home. Cadillac and Al Ghandi Auto are dedicated to elevating the brand's premium customer experience, ensuring customers get a truly Cadillac experience both in and out of the car.
Customers can visit the new Cadillac showroom from 9 am to 8:30 pm form Saturday to Thursdays. The service and parts center will be open from Saturday to Thursday between 7:30 am and 5 pm.
Home
>>
Automobile Section