Home
>>
Healthcare & Medicine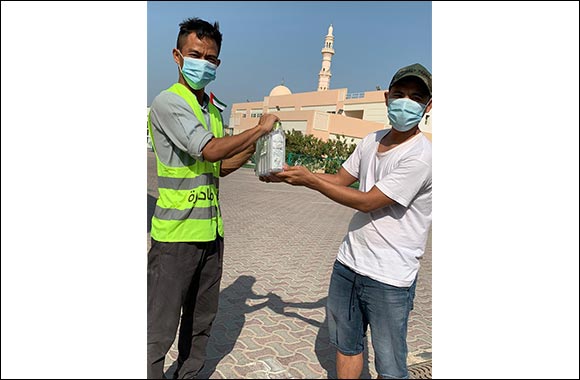 DaburCares provides Hand Sanitizers to Disadvantaged Communities with the Support of SmartLife and Royati Family Society
Started in March this year, DaburCares initiative has helped 20,000 individuals and families so far

Dubai, UAE; November 21, 2020: DaburCares initiative by Dabur International continues to protect disadvantaged communities with provision of hand sanitizers and care packs. In the latest phase of the programme, more than 5000 individuals and families in the UAE were provided Dermoviva hand sanitizers, to keep themselves and their loved ones safe from the ongoing pandemic.

This was accomplished through a joint initiative with Royati Family Society and SmartLife. Products were distributed through Islamic Affairs and Charitable Activities Department (IACAD) and Royati Family Society.

Nisha Ganapathy, Senior Product Manager, Dabur International, said: "We sincerely thank SmartLife and Royati for collaborating with us on this initiative to provide hand sanitizers to disadvantaged communities. We started the DaburCares initiative this year, to help frontline workers, families and individuals, through care packs containing hygiene products. These are challenging times and we want them to know that we are in this fight together. "

Since the start of the programme in March this year, DaburCares initiative has helped 20,000 individuals and families.

Manjula Ramakrishnan, President, SmartLife, said: "We are happy to support #DaburCares in their endeavor to protect the health of families and individuals as they battle the pandemic. These are tough times and support from companies like Dabur go a long way in telling the community around us that we care."

Products distributed through care packs include Dermoviva Hand Sanitizer Aloe Vera, Dermoviva Hand Sanitizer Olive, and Dermoviva travel safety kit. Dermoviva hand sanitizer is non-sticky and has natural anti- bacterial properties of Aloe Vera and Olive and, is meant to kill 99.9% germs instantly without water. Proper hand-washing guidelines apply.
Home
>>
Healthcare & Medicine Section