Home
>>
Real Estate & Retail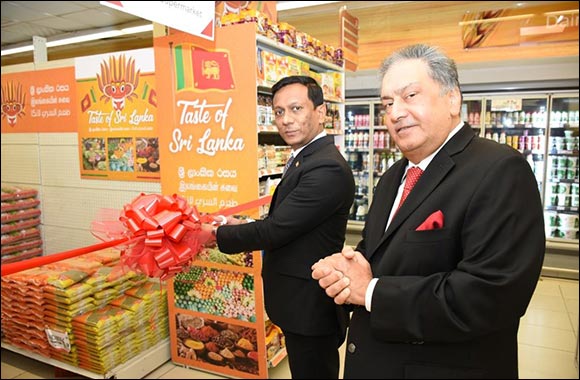 Kamal Vachani Announces Sri Lanka Food Festival at Al Maya Supermarket
This event is organized in collaboration with the Consulate General of Sri Lanka to Dubai & Northern Emirates

Dubai, 14 January, Wednesday: Al Maya Group Director Kamal Vachani on Monday announced 'Sri Lanka Food Festival' for two weeks at selected Al Maya Supermarkets in Dubai starting from January 13, 2020. The event is organized in collaboration with the Consulate General of Sri Lanka to Dubai and Northern Emirates.
Sri Lankan cuisine is known for its particular combinations of herbs, spices, fish, vegetables, rice, and fruits. The cuisine is highly centered around many varieties of rice, as well as coconut, which is a ubiquitous plant throughout the country.
"We are very excited to announce the 14-day 'Sri Lanka Food Festival' at Al Maya Supermarkets in Dubai. Sri Lanka boasts an amazing variety of food and styles of cooking, and we hope this festival will be a huge success by attracting a large number of Sri Lankans as well as other nationalities," Mr. Kamal Vachani said.
Mr. Vachani added: 'Sri Lankan cuisine has so many different flavours, colours and methods of cooking that the end result is an interesting mix with the range being as colourful as it is delicious.'
Commenting on the event, the Consul General of Sri Lanka to Dubai and Northern Emirates H.E. Nalinda Wijerathna expressed his confidence that this important event would further enhance the strong business relations that Sri Lankan business Community and the Sri Lankan Community in the UAE continuously maintain with the Al Maya Group. " This initiative will open up more avenues for Sri Lankan exporters to serve the UAE market through Al Maya Supermarkets. At the same time, the Sri Lankan and other Communities in the UAE will also have the opportunity to consume a wide range of unique Sri Lankan products". "I congratulate Mr. Kamal Vachani and his team for successfully organizing this wonderful event", he further added.
Al Maya Supermarkets serve all nationalities across the UAE and fulfil their all requirements related to fresh vegetables, fruits, juices and packaged food.
Al Maya Group, the UAE-based business conglomerate, has more than 50 supermarkets in the GCC countries in addition to other businesses.
Home
>>
Real Estate & Retail Section