Home
>>
Energy and Industry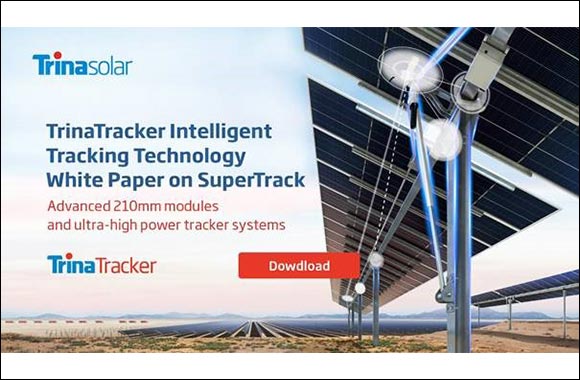 Trina Solar Releases TrinaTracker Intelligent Algorithm White Paper: Boosting Energy Gain by 3-8%
Dubai, United Arab Emirates – 26 January 2021: Trina Solar Co., Ltd. ('Trina Solar' or the 'Company'), a leading global PV and smart energy total solution provider, has released the TrinaTracker Intelligent Tracking Technology White Paper on SuperTrack. According to the white paper, the SuperTrack algorithm has three distinctive technical features - including both smart tracking and backtracking technologies, "Broadcast + Polling" communication strategy, and extreme weather protection techniques. Certified by the industry recognized third-party organization CGC (China General Certification) in November 2020, SuperTrack can improve energy gain by 3-8% over the traditional astronomical algorithm.
SuperTrack reduces the LCOE efficiently
The white paper studies the development of solar trackers, current challenges of tracking technology, technically differentiating features of SuperTrack and explores future prospects for new industry standards.
Independently developed by Trina Solar, SuperTrack will help drive this reduction even further by improving on the deficiencies of traditional astronomical algorithms. It is an innovative intelligent tracking technology that will take the weather into consideration, reduce potential shading losses due to the row-to-row spacing of bifacial modules during the backtracking stages, and comprehensively consider the overall generation performance of high power bifacial modules. This will better use the differentiating features of single-axis trackers, increase the project power generation gain, efficiently reduce the LCOE, and increase project returns.
SuperTrack achieves a rise of 3-8% in energy gain
According to the white paper, with its two core smart algorithm components, SuperTrack optimizes the power generation at any instant. Based on a patented bifacial technology model, weather conditions, and system parameters, SuperTrack can deep-learn high-diffuse irradiance weather and power generation characteristics of bifacial modules to dynamically achieve the optimal tracking angle to continuously increase project energy yields. Additionally, based on Trina Solar's Slope Model and neural network algorithms, SuperTrack optimizes the tracking angle for complex terrains through three-dimensional modeling of the terrain and iterative simulations, followed by using drone sensor technology for dual verification. Finally, it uses the Decision Model to determine the optimal tracking angle group with the best power output performance.
Second, SuperTrack features efficient and stable communication. It adopts wireless communication and self-powered technology to reduce the use of communication cables, power cables, related wiring and labor costs. In particular, the 'Broadcast + Polling' innovation is used to ensure communication efficiency and stability.
Last, but not the least, SuperTrack enables protection strategies in extreme weather. Relying on the intelligent control, SuperTrack integrates multiple extreme weather protection targeting strong wind, heavy snow, and hail. It also combines wind tunnel testing and CFD simulation to improve the reliability and O&M efficiency of the tracker. Integrating the features of smart tracking and backtracking, SuperTrack significantly improves the processing capacity to respond to various weather patterns and complex terrains, to further enhance the trackers' power generation potential.
'Along with the wide application of bifacial modules, SuperTrack will help single-axis-trackers achieve a further jump in energy gain, which will accelerate the reduction of the LCOE and increase the future adoption of trackers in the global PV industry.' said Duan Shunwei, Head of TrinaTracker business unit of Trina Solar.
Zhou Gang, General Manager of Solar Energy Division of CGC, explained, 'CGC and Trina solar evaluated the feasibility of SuperTrack algorithm at the initial phase of the project, upon which CGC fully recognized the advanced nature of SuperTrack and designed a targeted empirical solution. During the monitoring process, CGC verified SuperTrack's data accuracy and effectiveness. '
Home
>>
Energy and Industry Section