Home
>>
Banking & Investments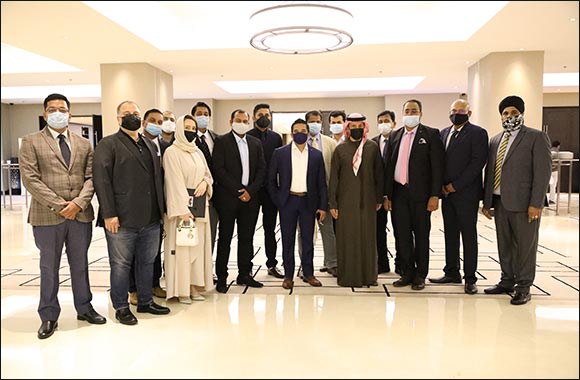 India's Business Giant Darwin Platform Group Signs MoU with UAE's ARJ Holdings, Westford and Jan Bros
· Eying emerging and high growth sectors Darwin Platform ties-up with ARJ Holdings and Jan Bros to bring and market their wide range of products and services in India, joins hands with the UAE entities to expand businesses in both India & UAE
· Partners with Westford Education Group to establish a Campus of Liverpool John Moores University (UK) in India
Dubai (UAE), January 27, 2021
Darwin Platform Group of Companies (DPGC), a leading global business conglomerate from India, today announced its investment plans and partnerships in several sectors including Manufacturing, Retail, Education, Avitronics, Infrastructure, Energy, Oil, Gas, and Information Technology in UAE and with UAE-based companies. DPGC's Dubai-headquartered companies Darwin Platform Capital Ltd, Darwin Avitronics Inc, Gulf Gate Oil and Gas Products LLC, and Dlehman Rea IT Trade LLC today signed several agreements to form Joint Ventures and other modes of partnerships. For India, DPGC's retail arm 'DP Retail' entered into a partnership with UAE's leading Retail company- Jan Bros to market their products and provide supply-chain support.
The DPGC's net worth is nearly USD 6 billion and it has 21 associates companies. Over the years, the Group has made rapid progress in several sectors with its associate companies.
Announcing the partnerships, Farhan Ahmed Damudi, Head, DPGC, UAE said, "We have joined hands with ARJ Holdings to work jointly in several sectors. In the education sector, DPGC has entered into a partnership with Westford Education Group (WEG) for an operational agreement for India. For Retail, we have joined hands with Jan Bros, which is a 94 years old UAE based company with operation in many countries with 2500 product merchandise, to enhance their presence in India and provide product sourcing support. DP Retail has entered into a partnership with Jan Bros. In collaboration with Jan Bros, we plan to invest Rs 100 crore to put up a joint manufacturing unit also."
Darwin Group entered into multiple Joint Ventures and exclusive ties up in UAE and signed MoU with three leading entities. ARJ Holding today is one of the prominent business houses in the United Arab Emirates, representing leading brands. The Group operates four major areas — Trade, Power, Life & Green. DPGC's Dubai entities would work with ARJ in the fields of Building and Engineering Services, Manufacturing, Water Management Technologies, Property Development, Renewable Energy Systems, Hospitality, F&B, Health & Wellness, Marketing Communications, Education, Fashion, and Retail. The company has its strategic offices in India.
"DPGC would provide all business support to ARJ holdings in its India operations as well. In the education sector, Darwin Education, a part of DPGC, has tied up with UAE-Head quartered Westford Education Group, a leader in Trans-National Education with decades of experience of operating UK and USA University programs across the globe. A memorandum of understanding and cooperation agreement has been engaged with an intent to establish a state of the art international campus of the prestigious Liverpool John Moores University, the United Kingdom in India to fulfill the aspirations of the discerning students in India intending to pursue international higher education degrees and diplomas," informed Farhan Ahmed Damudi.
"With strategic partnerships, DPGC plans to bolster India-UAE business collaborations as the huge potential exists in the areas of services and technologies, Retail, IT, Education, Energy, Finance, Infrastructure, Defence manufacturing, and Avitronics among others. As India and UAE target to increase trade from $ 60 billion to $ 100 billion in the next couple of years, DPGC's partnerships would play a catalyzing role in achieving this goal," said Vijay Singh, Director ( International Business), DPGC.
"The MoUs signed in Dubai (UAE) today aim at enhancing production capabilities, increasing investment in UAE, enhancing manufacturing units in India, creating employment, and creating wealth for both countries. These partnerships also aim to get access to African and other Asian markets from Dubai. Overall, we aim to create huge employment opportunities and wealth for all our stakeholders," he added.
DPGC cemented its relations with UAE business entities with several visits in the last few months. The MoUs signed DPGC are expected to boost India-UAE bilateral Business Collaborations. After setting a strong footprint in India, the DPGC now plans to expand its businesses in several sectors in other countries. In the Middle East, it has already entered into Oman and invests in DUQM's Economic Zone. With several JVs and partnerships agreements today, the DPCG finds a strong foot in UAE and also provide opportunities to UAE-based entities to tap the huge potential of India's vast market.
Home
>>
Banking & Investments Section