Home
>>
Lifestyle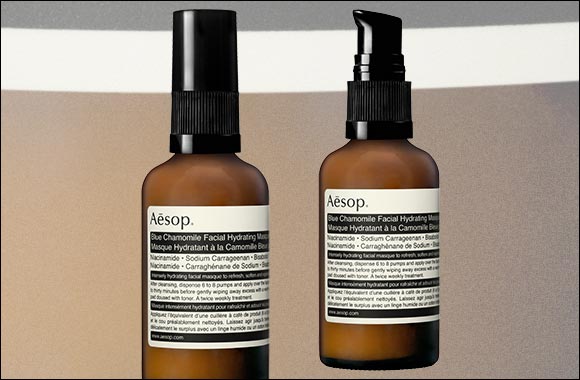 Blue Chamomile Facial Hydrating Masque
An intensive treatment to soothe, balance and replenish the skin
United Arab Emirates - February 11, 2021: Aesop's latest release in the Classic Skin Care range is Blue Chamomile Facial Hydrating Masque, an intensely hydrating treatment formulated with soothing botanicals to leave the skin feeling refreshed, soft and replenished. A lightweight emollient gel, it is ideal for normal to dry skin types, and for those exposed to dry, humid, or polluted environments.
Key ingredients include Blue Chamomile to balance and purify the skin, and a synergistic blend of Bisabolol and Ginger Root to calm and soothe, aided by essential oils of Rosemary Leaf and Lavender. Sodium Carrageenan boosts hydration, promoting water retention within the skin; it is complemented by carefully selected emollients including Panthenol (Pro-Vitamin B5).
After cleansing, apply an even layer of product over the face and neck. Leave for up to thirty minutes before gently wiping away excess with a warm damp cloth; alternatively, use a cotton wipe doused with B & Tea Balancing Toner, leaving a light, nourishing veil over the skin. If desired, follow with your favoured Aesop hydrator, or allow the Masque to absorb completely without wiping off.
Aesop recommends using once or twice weekly. To ensure skin derives maximum benefit from this exceptional formulation, preface regularly with deep-cleansing Purifying Facial Exfoliant Paste.

Price: AED 180
Home
>>
Lifestyle Section