Home
>>
Entertainment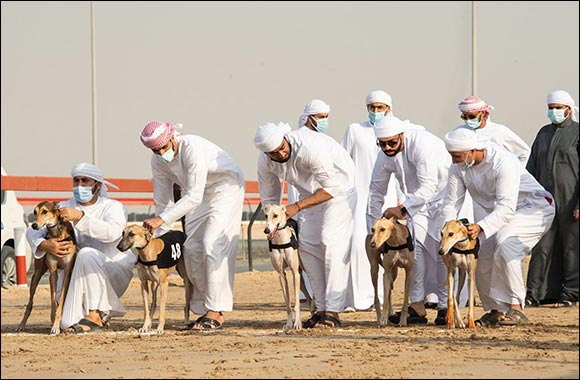 Saluki Championship Finals finish strong in Dubai
* Saluki race pedigrees from Saudi Arabia, Bahrain and Oman put on a show of speed and stamina
Dubai, 22 February 2021: Salukis, the Bedouin hunting dogs, put on a thrilling show of speed and stamina during the final matches of the 14th Saluki Championship, organised by the Hamdan Bin Mohammed Heritage Center (HHC), this weekend at Dubai's Al Marmoom racetrack.
The championship witnessed a remarkable participation from across the region, including the UAE, Saudi Arabia, Bahrain and the Sultanate of Oman. Saluki, is among the first canine breeds to be domesticated in the world and Bedouins have used Salukis which can run up to 65kmph.
The saluki of Sheikh Muhammad bin Al-Murr Al Maktoum won first place in the 1000-metre race for male Salukis, followed by the Salukis of Nasser Obaid bin Dalmook Al-Ketbi in third and fourth places.
Nasser Obaid Rashid bin Dalmook Al Ketbi won a hat-trick, the first three places in the 1000-meter race Professional category, with his Salukis named 'Sheba', 'Swabi' and 'Pinsky'
Al Ketbi also won first place in the male Professional 2,500-meter race with his Saluki named 'Bali Mac, followed by Hamad Khalid Al-Rumaihi's 'Raky', and another Al-Ketbi's Saluki in third place.
Al Ketbi completed the trio of excellence, winning the Professional category 2500 meters with his Saluki 'Al-Reem' in first place, followed by the Salukis of Sheikha Hessa bint Al-Murr Al Maktoum and Sheikha Latifa bint Al-Murr Al Maktoum in second and third places respectively.
The Saluki of Amer Muhammad Al-Mansouri excelled in the 2,500-meter amateur category, followed by Mansour Salem Al-Nuaimi and in third place was the Saluki by Abdul Aziz Ibrahim Murad. Al-Mansouri's Saluki also won a round of the female amateur 2,500 meters.
Robust championship
HHC's Head of Saluki Championship Committee, Juma Al Muhairi expressed its strong appreciation for the efforts of the participants who trained hard for the championship. "This reflects the strong level of competition as we have witnessed an increased turnout of participants from across the region."
Sheikh Al-Murr Bin Maktoum Bin Juma Al Maktoum followed some of the final and qualifying rounds, and expressed his appreciation for the efforts to establish these championships, and said: "Heritage inspires generations, so I make sure that my children stick to practicing various traditional Emirati sports. We are happy to see a large number of young people participating and the turnout and strong competitive level reflect their passion for the heritage sports."

Year-round training
Amer Mohammed Al-Mansouri from Al Ain revealed that the secret of his excellence in winning the two titles of the amateur race is due to the training and equipment over the course of a whole year. He said: "We thank the Crown Prince of Dubai, for his patronage and his support for this championship."
Home
>>
Entertainment Section