Home
>>
Fashion
5 Outfits to Host Guests in Style and Comfort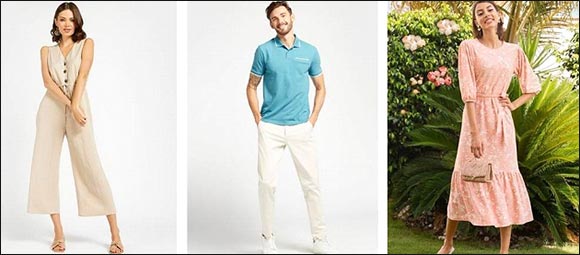 18 July 2021 - Dubai, UAE: With Eid Al Adha right around the corner, many of us are hosting family and intimate dinners. One more thing to add to the to-do list for your Eid party: Find an outfit that creates a celebratory mood whilst being chic and comfortable.
MAX experts have rounded up five foolproof outfit ideas for you to keep in mind this festive season instead of spending the day before Eid deciding what to wear.
1. Women can explore their femininity and style this festive season with elegant dresses. Choose a beautifully designed floral print midi tiered dress with tie-up belt (AED60) teamed with minimal jewelry and matching sandals for a simple and sophisticated ensemble.
2. Style for women would exude femininity with bright floral skirts and solid tops featuring intricate lace detailing and subtle sequins (AED50) to help create unique looks for those special moments shared during Eid.
3. If your style is on the casual side, look summer ready in a jumpsuit (AED85) which transitions from day to night without missing a beat. Team it with a pair of mid-heel sandals and dangling earrings for an impeccable look.
4. Men could go for a solid button-down shirt (two for AED60) with pale pants, loafers, and no socks. For a classic preppy look, pair a polo T-shirt with chinos (AED55).
5. Men could also try a graphic print T-shirt (AED35) with jeans, in the summer, shorts. Whether boots or sneakers, the footwear should be well-kept and stylish to elevate the whole look.
Now all that is left is to get ready for a festive celebration that no one is likely to forget anytime soon. Gather your favorite people and start sending out those invites. This is surely going to be an Eid to remember!
Home
>>
Fashion Section