Home
>>
Healthcare & Medicine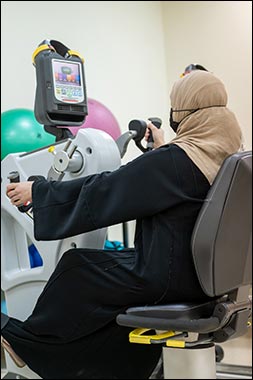 Madinat Zayed Hospital Successfully Treats Patient With Haemorrhagic Cerebrovascular Accident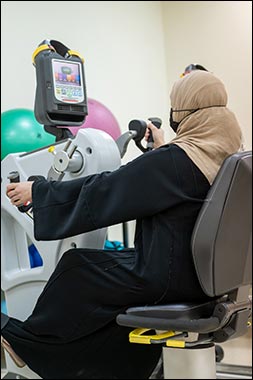 04 Sep 2021: Madinat Zayed Hospital, part of the Al Dhafra Hospitals that fall under Abu Dhabi Health Services Company, (SEHA) – the UAE's largest healthcare network, successfully treated 36-year-old female patient, Bushra, who was admitted with haemorrhagic cerebrovascular accident (CVA), intubated for over three weeks.

CVA is a type of stroke that occurs when a blood vessel in the brain or on the surface of the brain leaks or breaks open, causing bleeding in or around the brain. This leads to swelling and pressure, which can damage cells and tissue in the brain.

The patient first visited Madinat Zayed Hospital's Emergency Department presenting with Unconsciousness and fever, Bushra was immediately admitted to the Intensive Care Unit and placed in an induced coma for over three weeks to allow her brain to heal. Once the team managed to control the bleeding, she was extubated and began her journey towards recovery. When she awoke, the patient presented with weakness on the left side, with her muscle tone graded a zero as per the Modified Ashworth Scale - a muscle tone assessment scale used to assess the resistance experienced during passive range of motion, which does not require any instrumentation and is quick to perform.

In line with SEHA's multi-disciplinary approach, the rehabilitation specialists at Madinat Zayed Hospital were consulted and physiotherapy was recommended to regain muscle strength in her upper and lower limbs. Bushra's movement improved in her upper left limbs, she was able to extend her hand and hold on to the therapist for support. She continued to receive physiotherapy for an hour daily until her condition drastically improved, after which she was discharged while continuing her physiotherapy treatment in the outpatient clinic. Ten physiotherapy sessions later, she gained five out five muscle strength in all four limbs allowing her to carry out basic activities like going to the toilet and dressing herself independently.

Dr. Radwa Mohamed Mahmoud Gabr, Specialist Physician,Medicine Physical and Rehabilitation Specialist, Madinat Zayed Hospital, said: "Although physiotherapy focuses on restoring physical muscle strength, it really is a mental task. Patients put in hours of effort to be able to achieve minor changes in their daily life. I am proud of the team here who offer that mental support and motivation to our patients to achieve the best results."

The patient, Bushra, commented on the treatment she received, saying: "I would like to extend my deepest gratitude to the entire team at Madinat Zayed Hospital, who worked round the clock to bring me back on my feet, quite literally. Specialists from various teams worked seamlessly with the aim to give me the best possible treatment."

The Natural Medicine and Rehabilitation department at Madinat Zayed Hospital offers an array of services which include dry needling, collision waves, and manual therapies.
Home
>>
Healthcare & Medicine Section