Home
>>
Travel & Tourism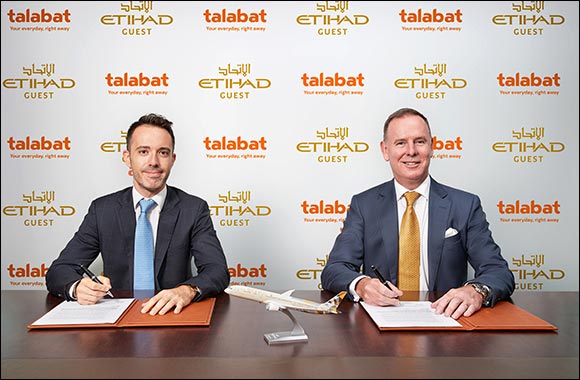 Etihad Airways and Talabat Team Up To Explore a Range of Exciting New Initiatives
• Region's leading food delivery platform talabat joins the Etihad Guest 'Miles on the Go' loyalty programme
• The MoU was signed in Abu Dhabi, by Etihad Aviation Group CEO Tony Douglas, and talabat CEO, Tomaso Rodriguez
Abu Dhabi, United Arab Emirates – September 21, 2021: Etihad Airways, the national airline of the UAE, and talabat, the region's leading food delivery and q-commerce platform, have signed a region-wide Memorandum of Understanding (MoU). The agreement will see the two organisations collaborate on a range of initiatives that will benefit both Etihad Airways and talabat customers and employees.
The MoU, signed today at Etihad Headquarters in Abu Dhabi, by Etihad Aviation Group CEO, Tony Douglas and talabat CEO, Tomaso Rodriguez, heralds the start of the organisation's participation in the Etihad Guest 'Miles on the Go' programme. Etihad Guest members can now earn and spend Etihad Guest Miles when ordering food, groceries and other essentials on the talabat platform. Members who have downloaded the Etihad Guest mobile app and have registered their eligible Visa cards can earn 1 mile for every AED 3 spent on the talabat platform using the linked card. The app will also prompt members to choose if they wish to earn miles or redeem miles on the transaction.
The MoU also signals greater ties between the organisations in the future, both of which have committed to exploring a broad range of innovative projects that will benefit both Etihad and talabat customers, members and employees across the MENA region.
Tony Douglas, Group Chief Executive Officer, Etihad Aviation Group, commented: "Etihad has always been at the forefront of the travel industry, and today's partnership with talabat demonstrates our commitment to providing an industry-leading loyalty offering that goes far beyond travel and becomes a full lifestyle programme. As an airline, we are consistently partnering with brands that will drive value for Etihad Guest members and reward them in the sky and on the ground more easily and efficiently."
Tomaso Rodriguez, Chief Executive Officer, talabat, stated: "Our MoU with Etihad Airways brings together two leading players in two very competitive industries. As customer-centric organisations, we pride ourselves on finding new solutions to create the best customer experience - a key part of this MoU. We are looking forward to collaborating with the team at Etihad Airways to bring to life some of our regional innovations, such as talabat Mart, in new experiential ways, to surprise and delight our joint customers in the future."
Customers of talabat who would like to start earning miles on Etihad Guest can sign up for free on etihadguest.com, while Etihad Guest members who would like to start earning and spending their miles through the talabat platform can download the Etihad Guest App and register their Visa cards on Miles on the Go.
Home
>>
Travel & Tourism Section