Home
>>
Technology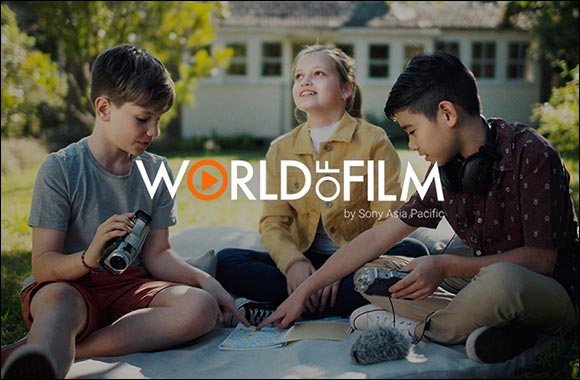 Sony Middle East & Africa Launches World of Film Campaign
Dubai, UAE, 21 September 2021 – Sony Middle East & Africa announces the World of Film, an initiative to celebrate Sony's legacy and continued commitment to the movie making world. Whether it be involvement with high profile blockbuster studios or an individual crafting their indie film, Sony is committed in their creative journey every step of the way through the power of their Alpha series interchangeable lens cameras and Cinema Line camera series. The campaign began on 2 August 2021 and will run until the end of the year.

Sony's Film Legacy
For decades, Sony has pushed the boundaries in the world of filmmaking and stayed at the forefront of cutting edge cinematic technology. In 2000, Sony introduced Hollywood to the HDW F900, the world's first digital cinema camera. The F900 was used to make blockbuster movies such as Star Wars: Episode II Attack of the Clones in 100% digital cinematography. Sony's class leading VENICE has been used to capture hundreds of theatrical, broadcast, cable and streaming releases. Sony has combined its film industry DNA and superior digital imaging prowess to create powerful creative tools such as the Cinema Line and Alpha Series cameras to capture emotion and unleash the true power of visual storytelling.
Sony's extended history in the cinematic world has built long lasting relationships with studios and filmmakers the world over. With this engagement of the filmmaking community, Sony hopes to encourage content creators to blossom through the power of Sony digital imaging equipment.
Celebrating Creators
Sony will be celebrating several unique filmmakers from a diverse range of backgrounds and across a wide range of genres. These include individual filmmakers to production houses crossing Asia Pacific and the Middle East & Africa. Joining the World of Film initiative are filmmakers and Sony Alpha Ambassadors and Collaborators from the region such as Mark Issa from the UAE, Khalifa and Salma Kassef from Egypt; and Jacques Crafford, Ian Nieuwenhuizen and Adi van der Walt, Luke Bell and Hloni Coleman (XCIV), and Ofentse Mwase from South Africa.
Their films will be showcased alongside exclusive behind the scenes production footage starting 2 August 2021. This footage will share their journey and experience in filmmaking and the gear that helped them achieve their vision. Additionally, these creators will hold workshops sharing insights on how they achieved their cinematic visions starting 2 August 2021.
Filmmaking Competition
Additionally, Sony will be running a filmmaking competition as part of the campaign. The competition began on 2 August 2021 and runs until the end of the year on 31 December 2021. The competition consists of two categories. The Open Category which is open to all entrants in participating regions and the Student Category which is open to participants undertaking a full-time filmmaking programme .
All submissions must be submitted via the online submission form on the World of Film by Sony Middle East and Africa website linked here. Each submission will be judged for their artistic excellence in craftsmanship across various aspects of filmmaking.
Winners will first be chosen on a local level before being judged regionally. The local winners will be judged in January 2022 while the regional winner will be judged in February 2022. Local prize winners will receive digital equipment. The grand prize for the regional winner will be USD$15,000 cash for the Open Category and USD$8,000 cash for the Student Category.
Home
>>
Technology Section