Home
>>
Healthcare & Medicine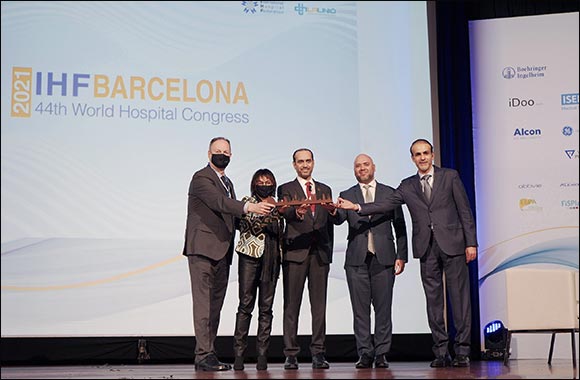 Dubai Health Authority Wins the Gold Award for Leadership and Management at the 44th World Hospital Congress.
• The 44th World Hospital Congress recently concluded in Barcelona and Dubai will host the 45th edition of the congress in November 2022.
• This is the second time Dubai will host this prestigious congress.
Dubai, United Arab Emirates, November 15, 2021: The Dubai Health Authority (DHA) won the gold award for leadership and management at the prestigious 44th World Hospital Congress that took place in Barcelona.
Organized by the International Hospital Federation (IHF), the congress is a platform that connects leaders in the health sector to share knowledge, good practices, exchange new ideas and innovations.
The award committee selected the winners from 250 entries received from 38 countries. The winners were selected based on criteria such as originality, innovation, intended impact, adaptability and scalability, scientific rigour and clarity.
DHA become the gold winner of the American College of Healthcare Executives Excellence Award for Leadership and Management. The award was presented to DHA for its outstanding achievements in strong leadership and management in leading the health sector.
Emirates Health Services received the same award in the Bronze category.
Entities in the UAE such as Corniche Hospital and Mediclinic Middle East received honourable mentions shining the light on the UAE's health sector.
His Excellency Awadh Al Ketbi, Director General of the DHA said that the UAE has made great and important strides in the field of healthcare and these awards are a testimony to the continuous progress the country has made in the health sector.
He thanked the UAE's wise leadership that has always guided, supported and prioritized the implementation of the highest quality of specialized, accessible and patient-centered care.
He said healthcare innovation, healthcare regulation, sustainability and the use of technology across all healthcare verticals have been areas that have further helped advance the country's health sector.
Al Ketbi said that next year Dubai will host the prestigious IHF congress for the second time.
He highlighted that the Emirate is currently hosting the World Expo 2020 and that Dubai is known for its capabilities in hosting massive and prestigious events.
Al Ketbi said the 45th IHF will present an opportunity to brainstorm with the best minds in healthcare globally and to discuss cutting-edge solutions in the medical field.
Home
>>
Healthcare & Medicine Section