Home
>>
Events & Exhibitions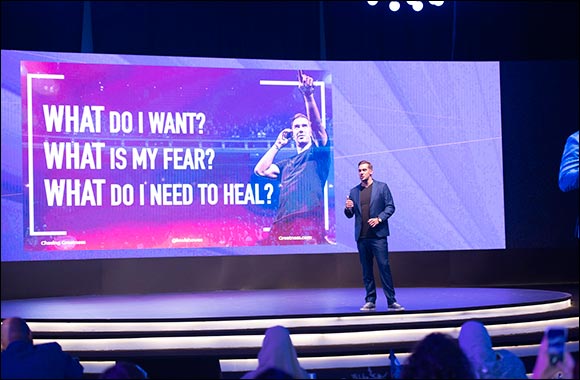 UAE's Inspiring Growth Story and Sharjah's Cultural Vision Hailed on Concluding day of Sharjah Entrepreneurship Festival 2021
Two-day event featuring a galaxy of entrepreneurial ecosystem players from across the globe draws to a close at Expo Centre Sharjah

Sharjah, November 24, 2021
Curtains came down on the 5th Sharjah Entrepreneurship Festival (SEF) on Tuesday after a packed, two-day programme that saw innovators, thought leaders and thinkers deliver real value to more than 4,000 young changemakers through engaging discussions and inspirational talks to fuel their journey of entrepreneurial growth.
Delivering the concluding keynote address of SEF 2021, Lewis Howes, motivational speaker and author of The School of Greatness, hailed the inspiring story of the UAE – from a desert nation just over 50 years ago to its upward trajectory of growth spanning sectors – and said that it holds the key to the framework essential to cultivate both personal and entrepreneurial success.
"I am inspired by the vision, unity, innovation and creativity that has spurred the phenomenal growth of this country. Fifty years ago, this was all just a dream, but a few visionary leaders came together to realise this dream and committed themselves to make it happen," said Howes, asserting the power of having a vision and sharing those dreams with others to bring to fruition one's life goals.
At the session titled, 'Chasing Greatness', Howes, a former professional football player and popular podcast host, said: "Self-doubt is the silent killer of big dreams, and the three primary barriers to achieving greatness are the fear of failure, fear of success, and fear of judgment."
Unveiling the three important pillars to unearth one's potential, he said: "Ask yourself three questions: What do I want? What is my fear? What do I need to heal? At the core of these lies the feeling that 'I am not enough'. Addressing what is holding you back and taking action to overcome those will help you accomplish greatness."
'Sharjah understands the value of culture'
"Sharjah is an incubator for creatives in the region because it is a city that has understood the value of culture and the role of culture in connecting peoples and building bridges between nations," said Aida Muluneh, Ethiopian photographer and contemporary artist, while speaking of creativity and cultural entrepreneurship at a discussion titled "I'm An Entrepreneur Too: Giving Creatives Their Due'.
She added: "Culture is embedded in the development journey of Sharjah, and this is what brings me here and connects me to this place."
Muluneh, the founder and director of the Addis Foto Fest, the first international photography festival in East Africa, added: "Culture teaches the world who we are; and has an impact in shifting people's perceptions. Africa is so underrepresented and shown from a perspective that is not documented by us. Through my photography, I want to share with the world my side of the story of my country and continent."
At the discussion moderated by Mohamed Somji, Director, Gulf Photo Plus, the Ethiopian photographer also urged professional creatives to ensure the sustainability of their careers through planning, budgeting and networking and to build it up like any other business.
The fifth edition of the Sharjah Entrepreneurship Festival (SEF), one of the largest events for entrepreneurs in the region, organised by the Sharjah Entrepreneurship Center (Sheraa), witnessed the participation of 55 speakers, including influential regional and global entrepreneurs, industry titans, and young creatives from social, cultural and sports sectors, and more. The two-day event brought together more than 4,000 entrepreneurs and founders of startups across sectors on one platform, who discussed ways to make a meaningful impact and promote positive change in the local and regional entrepreneurship sectors.
SEF 2021 was organised in partnership with the ICT Fund – an initiative of the Telecommunications Regulatory Authority and the Digital Government of the United Arab Emirates, Sharjah Media City (Shams), Alef Group, and the Sharjah Commerce and Tourism Development Authority.
Home
>>
Events & Exhibitions Section