Home
>>
Government, Legal & Humanity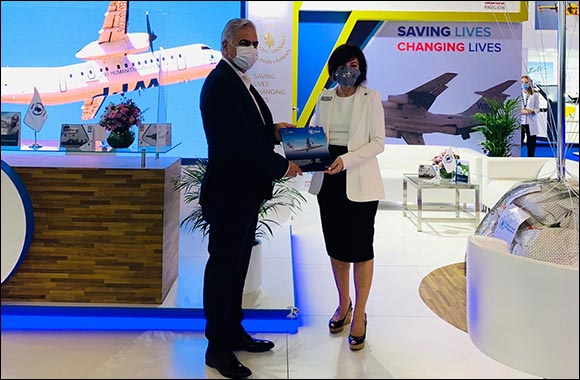 The Sky Is the Limit for the World Food Programme's Humanitarian Efforts
Pratt & Whitney Canada awards WFP in recognition for its dedication and impactful efforts to Save Lives and Change Lives

Dubai - November 25, 2021: The leading aircraft engine manufacturer Pratt & Whitney Canada awarded the United Nations World Food Programme's (WFP) in recognition for its unparalleled humanitarian effort and the recognized humanitarian endeavours in delivering lifesaving food assistance and support in some of the world's toughest environments. The award was presented by Pratt & Whitney Canada President Ms. Maria Della Posta to WFP's Regional Aviation Safety Officer Capt. Samir Sajet.
"I would like to congratulate World Food Programme for their prestigious Nobel Peace Prize award. Delivering food and assistance in some of the world's toughest environment requires passion and resilience. We at Pratt & Whitney Canada are extremely proud to be supporting the world's largest humanitarian response team and air operators who enable the Zero Hunger global objective. We thank you for the good you bring to the world," said Della Posta.
As WFP's air service arm, The United Nations Humanitarian Air Service (UNHAS) offers safe, reliable, cost-efficient, and effective passenger and light cargo transport for the wider humanitarian community to and from areas of crisis and intervention. It is the only humanitarian air service that gives equal access to all humanitarian entities.
"We are honoured to receive this award from Pratt & Whitney Canada, a world leader in the airline industry and a very strong partner to WFP.
We are committed to put in use our extensive expertise in aviation to help alleviate the suffering of vulnerable people as a first responder in emergencies, and only with the valuable support of partners like Pratt & Whitney Canada we are able to reach that goal" said Captain Sajet.
UNHAS responds to the need for access to the world's most remote and challenging locations, often under precarious security conditions, where no safe surface transport or viable commercial aviation options are available. Sometimes natural disasters leave air transport as the only mean of access; at other times, it is conflict that puts entire areas beyond the reach of land transport or commercial flights. Created precisely for such scenarios, UNHAS is a critical lifeline transporting humanitarian workers and lifesaving cargo to some of the most challenging and hard-to-reach locations on the planet
WFP works to achieve the second of the UN's 17 Sustainable Development Goals, Zero Hunger, which pledges to end hunger by 2030 which involves supporting governments and communities in 88 countries achieve food security and improve nutrition and promote sustainable agriculture worldwide. Crucial to this goal is collecting and transporting food to crisis areas and providing safe access for humanitarian workers and cargo, allowing life-saving projects to be implemented and monitored.
Home
>>
Government, Legal & Humanity Section