Home
>>
Government, Legal & Humanity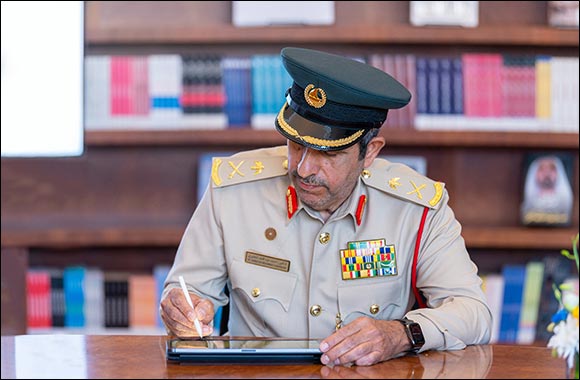 Dubai Police and Mohammed Bin Rashid University of Medicine and Health Sciences sign MoU to Enhance Cooperation
Collaboration intends to strengthen partnerships in research and specialized disciplines, and provide educational pathways for police officers
Dubai, UAE, 28 November 2021: Mohammed Bin Rashid University of Medicine and Health Sciences (MBRU) has signed a Memorandum of Understanding (MoU) with Dubai Police, with the goal of strengthening partnerships in scientific, research and specialized disciplines to enhance research outcomes in the Emirate and health outcomes for the society.
The MoU was signed by His Excellency Major General Dr. Ahmed Eid Al-Mansoori, Director of the General Department of Forensic Evidence and Criminology and Dr. Amer Sharif, Vice Chancellor of MBRU, in the presence of officials from Dubai Police and key members of MBRU.
Following the MOU signing, H.E. Major General Dr. Ahmed Eid Al-Mansoori and the accompanying delegations toured the MBRU facilities including the Khalaf Ahmad Al Habtoor Medical Simulation Center (KHMSC), the MBRU Surgical Skills Lab and MBRU Biomedical Research Center supported by Al Jalila Foundation. H.E. commended MBRU's advanced infrastructure and efforts in supporting education and research.
The agreement covers several topics, including initiatives to develop areas of mutual interest particularly cooperation in research, training, and capacity-building. Additionally, the initiative will assist Dubai Police personnel and their families who wish to complete their studies at MBRU.
The MoU goes in line with the UAE's objectives of enhancing cooperation and knowledge and experience exchange between government entities, which play an important role in advancing scientific research that contributes to the Emirate's vision of creating a healthy, knowledgeable society.
The MoU will also facilitate the identification of action plans, responsibilities, timeframes, and outputs for the initiatives and projects agreed upon between the two parties.
Home
>>
Government, Legal & Humanity Section