Home
>>
Technology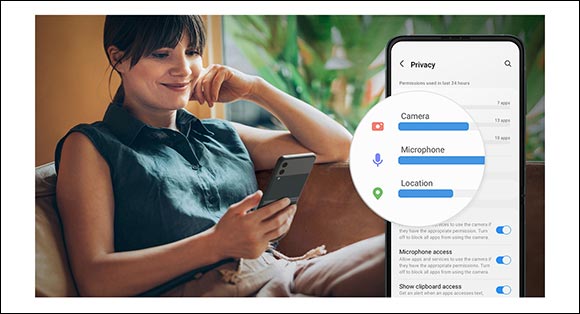 Samsung Announces One UI 4 Update Rollout to further Enhance Galaxy Ecosystem Experiences across the UAE
The latest software overlay provides even greater customization, privacy, accessibility and has first been integrated with the Galaxy S21 Series ahead of expansion

Dubai, UAE – 29 November 2021: Samsung Gulf Electronics today announced the official launch of One UI 4 across the UAE, confirming that the latest software overlay generation will first be rolled out through the Galaxy S21 Series effective immediately. Comprising new customer-centric customization options, valuable privacy features, and seamless access to Samsung's Galaxy Ecosystem, One UI 4 promises to deliver enhanceed smartphone experiences that further empower end users, with new benefits and more now available with the Galaxy S21, Galaxy S21+, and Galaxy S21 Ultra.
"As technology advances and consumer demands evolve, Samsung remains committed to establishing new experience standards for customers through the provision of the latest industry-leading upgrades," said Osman Albora, Senior Director – Mobile Division, Samsung Gulf Electronics. "Today's announcement represents a new chapter in this ongoing journey, with One UI 4's arrival going beyond this commitment to provide a whole different level of customization, privacy, and accessibility throughout the region. Galaxy S21 Series integration is just the beginning of these efforts, and we are excited to expand this software to other Samsung devices and innovations across the Galaxy Ecosystem in due course."
Your Galaxy, Your Way
One UI 4 enables you to create a customized mobile experience to meet your unique needs and express your individuality. With a whole host of new Color Palettes to choose from, you can alter the look and feel of everything from your home screen to icons, menu, button and background. And with reimagined widgets that offer even deeper customization, it's never been easier to put your own personal stamp on your smartphone experience. You can even more effortlessly express yourself with a wider variety of emoji features, GIFs and stickers available directly from your keyboard.
Protect What Matters Most
There's no privacy without strong security. That's why, with One UI 4, Samsung is bringing the latest privacy and security features, so you can choose exactly what you want to share or keep private. From alerting you to when an app is attempting to access your camera or microphone, to a new privacy dashboard that brings all your settings and controls into one convenient place, with One UI 4, monitoring and controlling your privacy settings is simple.
Connecting You to an Extended Ecosystem
One UI 4 helps you to get the most out of Samsung's incredible extended ecosystem of devices and third-party apps, unlocking a more powerful mobile experience. Samsung's partnerships with other industry-leaders, like Google, ensure seamless experience when using your favorite third-party apps and services. This means you can enjoy apps like Google Duo, which provides high-quality video calls with friends and family. And whether you're using a Galaxy Fold, Galaxy Watch or Galaxy Tab, you'll get the uniformed look and feel across your devices, and will be able to seamlessly sync them.
Availability
One UI 4 is now available on the Galaxy S21 Series and will soon become available on previous Galaxy S and Note series, as well as Galaxy A series, foldables and tablets . This announcement comes alongside a new software update for the Galaxy Watch series that, starting today, enables users to enjoy enhanced health features and new watch faces.
Home
>>
Technology Section