Home
>>
Government, Legal & Humanity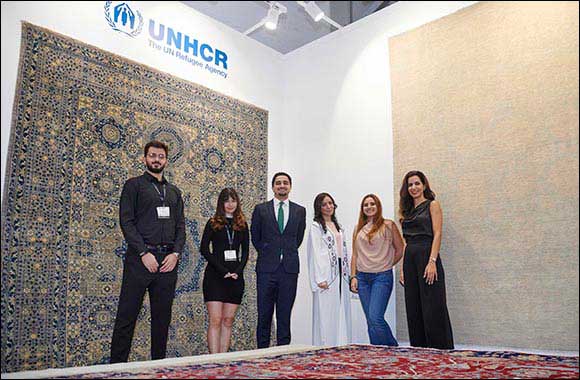 Fatima bint Mohamed bin Zayed Initiative & UNHCR raise AED 263,625 for Women & Families in Afghanistan
Dubai, United Arab Emirates, Tuesday 30th November 2021: In an effort to support the most vulnerable families in Afghanistan during the forthcoming harsh winter months, the Fatima bint Mohamed bin Zayed Initiative (FBMI) and UNHCR, the UN Refugee Agency, collaborated on a fundraising initiative. FBMI donated 30 hand woven carpets from their Zuleya enterprise to UNHCR, which were then sold at Dubai Design Week from the 9th - 12th of November 2021. A total of AED 263,625 was raised, to support UNHCR's efforts in providing essential winter relief items to the Afghan families.
In addition to the Zuleya carpets, artists including HH Sheikha Mariam Khalifa Al Nayhan, the granddaughter of UAE President His Highness Sheikh Khalifa bin Zayed Al Nahyan, Shamsa Alabbar, the Arabic typo-graphist and jewellery designer, Norma Kamali, the New York based fashion designer, Pallavi Dean, the founder of interior design studio 'Roar', and Khalid Shafar, the Dubai-based designer also donated their artworks to help raise funds.
Maywand Jabarkhyl, CEO, FBMI said: "Afghanistan is facing a worsening humanitarian emergency with the economy near collapse and about half the population now reliant on aid. There are more than 3.5 million people displaced by conflict inside the country, including some 700,000 forced to flee this year alone. With winter fast approaching, temperatures in the capital are already reaching close to 0°C at night and may dip to as low as –25°C in mid-winter, putting those sleeping outside at risk of hypothermia."
He added: "We are extremely grateful to all those who took part in the auction. Through our FBMI centres we're able to invest locally in healthcare, education, numerous social and economic reforms, and employment opportunities. Our employees, of which 70% are women and widows, receive free vocational training, medical care and schooling for their children."
Nadia Jbour, Head of UNHCR office in the UAE welcomed the initiative and stated: "We are thankful for FBMI's initiative, which provided livelihood opportunities to Afghan families, who are facing increasing challenges in light of the recent developments in the country."
She added: "At UNHCR, we aim to highlight the abilities and the promising potentials of forcibly displaced individuals in addition to utilizing and capacitate their skills, in hope to increase self-reliance and become valuable contributors to their communities. This initiative is a reflection of these values, helping them to thrive not just survive."
Zuleya is one of FBMI's retail enterprises in the UAE that sells the handicrafts made in Afghanistan. All profits generated by the sales are reinvested into FBMI to sustain our social initiatives, and to preserve the ancient craft of carpet weaving for the generations to come.
Visit Zuleya FBMI Enterprise's showroom in Dubai Design District (D3), for an immersion in the Afghan crafts world.
Home
>>
Government, Legal & Humanity Section