Home
>>
Events & Exhibitions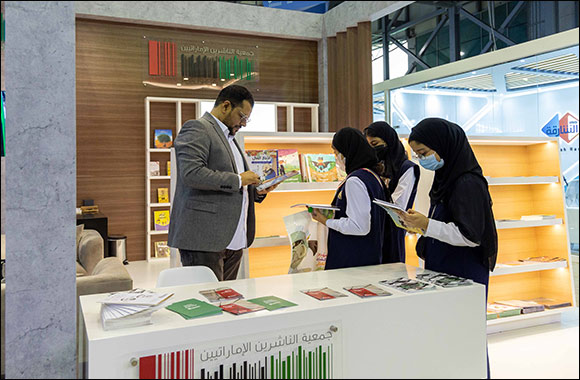 EPA Captures Attention of Children and Youth with 127 Titles at SCRF 2022
17 EPA members showcase a bouquet of titles in diverse genres under the Manassah project at 13th Sharjah Children's Reading Festival

Sharjah, May 20, 2022: Young visitors are flocking to the Emirates Publishers Association (EPA) stand at the ongoing 13th Sharjah Children's Reading Festival (SCRF) where under its Manassah platform, the entity is showcasing a bouquet of titles in diverse genres by Emirati publishers.
Amongst the popular books at EPA' stand, targeting children of all age groups, includes
Scribbles, a creative narrative of UAE's cultural, heritage and historical monuments; Life Is Beautiful, offering insights and solutions to life's everyday challenges; and the popular classic, Great Expectations by Charles Dickens.

127 books spanning diverse genres
The EPA stand at SCRF 2022 is hosting 17 publishers who are showcasing 127 children's and young adults' books through the 'Manassah' project that aims to support the publishing sector in the UAE and enables Emirati publishers to benefit from a showcase platform.
Participating EPA publishers at SCRF 2022 include Bibliosmia Publishing & Distribution, Makarem Publishing, Altafarud design and publishing services, Letters Publishing and Distribution, Sail Publishing, Al Ramsa for Publishing of books & other Publications services, Dar Hamaleel Publishing & Publishing, Dar Almuheet publishing house, The Dreamwork Collective, Ashtar Publishing, Darmaheroon, Bait Al Kutub trading, DAR SAIF ALJABERI PRINTING PUBLISHING &DISTRIBUTION, Dar Al Saif Publishing, Dar Al Andalus Publishing, and Landmarks For Printing and Publishing and Distribution.
The EPA stand hosted a book signing ceremony of Sidenotes to a Text Inspired by a Dream that Came True, a book published by EPA in celebration of the UAE's Year of the 50th. The book is authored by 14 children who had participated in a workshop themed, 'Youthful Writing'.
Other writers who had book signing sessions at the EPA stand included Bashayer Aarif (The Secret Life of Dubai's Street Cats) and Maha Al Khillawi (Power Goggles), both published by the Dreamwork Collective.
Rashid Al Kous, Executive Director of EPA, said: "We are collaborating with our members to enrich SCRF with quality children's and young adults' books that nurture the imagination of young readers in a range of fields. Our titles that cover science, culture, and heritage, amongst others, offer readers the opportunity to choose topics that best suit their ages and interests."
Home
>>
Events & Exhibitions Section