Home
>>
Events & Exhibitions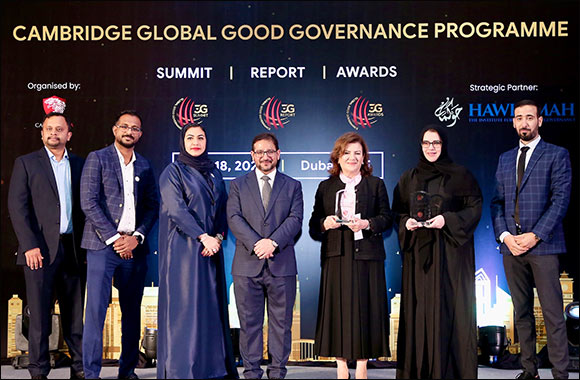 FOCP Honoured in Two Categories at 2022 Edition of Global Good Governance (3G) Awards
Sharjah-based nonprofit recognised for untiring efforts in inspiring hope and easing the burden in the lives of those afflicted by cancer

Sharjah, May 25, 2022: The successful and impactful strides made by UAE's Friends Of Cancer Patients (FOCP) in raising strong public awareness and helping establish a strong culture of early detection, has earned the UAE-based nonprofit well-deserved accolades at the 2022 edition of the Global Good Governance (3G) Awards.
The prestigious 3G awards, a premier awards programme that recognises excellence in good governance and commitment to social welfare, has honoured FOCP in two categories this year, namely, 3G Leadership Award for Social Sector & Philanthropy 2022 and 3G Best Community Service Award 2022.
FOCP, which is working towards the vision of a world where cancer no longer has power over lives, was recognised by 3G Awards for the fourth time since 2017.
Honoured for its untiring efforts in inspiring hope and easing the burden in the lives of those afflicted by cancer, FOCP was felicitated at an awards ceremony hosted after the Global Good Governance Summit 2022 in Dubai, UAE.
At the one-day summit held under the theme, 'Good Governance for Sustainable Development', H.E. Sawsan Jafar, Chairperson of FOCP Board of Directors, delivered a keynote speech where she outlined FOCP's 22-year journey of advocating health and providing holistic support and care under a strong three-pillared focus – patient access, community engagement, and advocacy at the local and global levels under the wise directives and patronage of Her Highness Sheikha Jawaher bint Mohammed Al Qasimi, wife of His Highness the Ruler of Sharjah.
Highlighting FOCP's prominent role during the pandemic in conducting training and advocacy seminars, hosting video interviews and webinars and collaborating with international organisations for cancer screenings, to ease the burden of both cancer and Covid-19, HE Sawsan Jafar said: "Sustainability will be our key mantra as we focus on philanthropy and development through the lens of compassion, leadership, and innovation. This would entail efforts to reduce gender and income disparities that hamper early detection and treatment, supporting patients and medical trials in low-income countries, and enabling value-based care to minimise unseen larger expenses."
HE Sawsan Jafar also discussed concepts of sustainable philanthropy and capacity building to drive long-term impact at a panel discussion titled, 'Sustainability Leadership'. The five-member team of panelists also explored the role of good governance in achieving the UN's Sustainable Development Goals and the role of technology and digital innovation in addressing global social issues.
Home
>>
Events & Exhibitions Section