Home
>>
Entertainment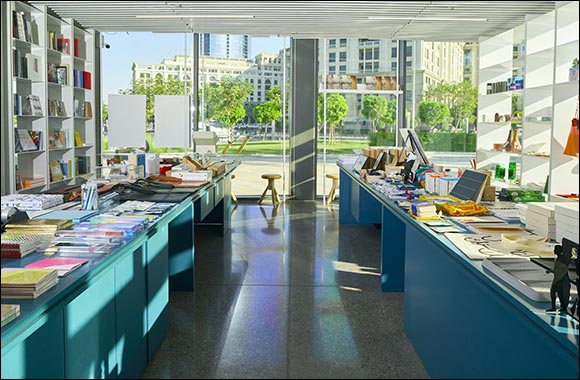 Keep Cool and Immerse yourself in Knowledge and Literature at Dubai's Libraries this Summer
DUBAI, United Arab Emirates- 6 August 2022: As summer is no longer a season or reason to stay home, residents and visitors to Dubai have an array of choices and options when it comes to enjoying the city's wealth of attractions during the warmer season. The city continues to evolve and expand and offers a host of attractions and cultural destinations that will help keep cultural aficionados, literature fans and inquisitive young minds occupied this summer.
With the arrival of warmer weather conditions, Dubai provides an array of libraries which are ideal retreats for bookworms and casual readers alike to while away afternoons, whilst expanding their horizons. With first edition novels, noteworthy cafes and lively book clubs, Dubai's libraries are ideal destinations to retreat to this summer season.

THE MOHAMMED BIN RASHID LIBRARY
Avid readers across the city should head to the brand-new Mohammed Bin Rashid Library located in Al Jaddaf, which was inaugurated recently by His Highness, Sheikh Mohammed bin Rashid Al Maktoum, Vice President and Prime Minister of the UAE and Ruler of Dubai. The architecturally magnificent library spans over 54,000 square metres, and boasts seven floors and nine themed wings, becoming the largest library in the GCC. The new venue will be a pillar of culture for the city, and a destination for sharing ideas and exchanging knowledge. The perfect location to interact with friends and fellow intellectuals this summer, the Mohammed Bin Rashid library aspires to be a celebration of the arts and Emirati history and literature. The library was crafted in the shape of a giant book ensuring that the destination will become an iconic Dubai landmark.
The library is host to a general section, specialising in Emirati literature and another major area dedicated to children and young adults. There are also sections within the extensive library which focus on business literature, periodicals, maps, atlases, magazines and more, from across the 20th century in both Arabic and English. There is also a private collectors section of the literary house, which guests with special permission will be allowed to access. An exceptional element of the venue is The Treasures of the Library, which includes historical copies of the Quran and a first edition of Miguel de Cervantes's 17th-century epic novel Don Quixote.

LITERATURE FOR LITTLE ONES
There are a number of libraries across the city which are perfect for spending an educational day out with children during the school summer holidays, whilst engaging young minds and inspiring and inculcating a love for literature in little ones. Dubai is fortunate to have a number of family friendly libraries that give kids the opportunity to learn and grow, whilst parents unwind nearby over a novel and cup of coffee. Al Safa Art & Design Library offers special memberships for adults and children and provides an engaging destination ideal for children of all ages and their families as it provides a vast range of distinctive books, as well as scientific materials, whilst also offering interactive art and design sessions, sculpture and architecture classes, Arabic calligraphy schooling, performing arts and much more. In addition to this venue, the Umm Suqeim Public Library offers a wide range of children's learning and reading sessions, in addition to a dedicated activity room crafted to captivate children's imaginations.

EXPAND YOUR MIND WITH CULTURAL READS
Dubai's wide range of libraries provide a perfect space to utilise free time this summer enriching the mind and soul and gaining an understanding of the rich culture and history of region. Many of the city's libraries have sections entirely dedicated to historic Emirati literature. The Jameel Library in Jameel Arts Centre features a wide range of novels celebrating the historical and cultural transformation of the UAE. The Jameel Library also hosts regular talks, conducts detailed research projects and hosts group reading sessions which injects an element of community into the library experience.

WELCOMING LIBRARY CAFÉS TO STAY HYDRATED AND ENTERTAINED
One may find independently-run cafes at these libraries in Dubai, providing visitors space to catch up with fellow book-lovers, friends and family over delicious artisan treats, coffees and local delicacies. These spots are also a perfect place to host book clubs and share recommendations and insights into beloved books. The Hor Al Anz Library has a quaint homegrown café which has been located in the library for a number of years, enhancing the collaborative feel of the destination which is bustling with groups of people excitedly discussing the written word over coffees and pastries.
This summer, tourists and residents alike are encouraged to consider some of Dubai's plethora of libraries and reading spaces in order to gain a further understanding of the city and reconnect with friends and family over a shared passion for literature.
Home
>>
Entertainment Section