Home
>>
Events & Exhibitions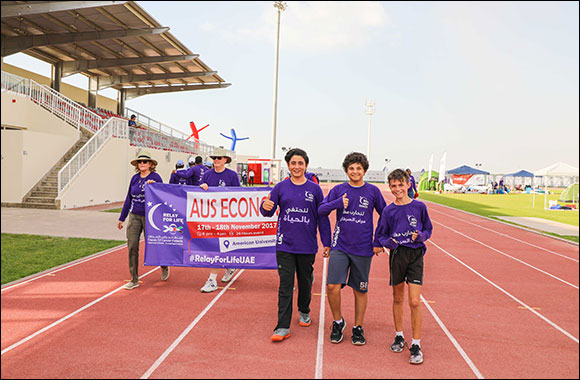 Dedicated Area for Youngsters to have fun and learn about Positivity at Relay for Life Cancer Fundraiser
The 24-hour multidisciplinary walkathon and largest peer-to-peer cancer fundraiser in the world invites people of all ages to learn about health, positivity and supporting cancer patients, survivors, and caregivers.

Sharjah, December 08, 2022: Having a dedicated programme of activities at this year's Relay for Life — the 24-hour multidisciplinary relay and the largest peer-to-peer cancer fundraising event in the world — will not only give parents and guardians the freedom to participate in the many different relays but will also aid in raising awareness and understanding to those of a young age, in a gentle and child-friendly way.
Cancer is a condition that affects young and old and in all social demographics, so it's important that people of all ages learn about the condition and that through being healthy, positive and educated, there is nothing in life that can stop people from reaching their dreams.
Instead of discussing concepts that are sensitive and difficult to comprehend at a young age, these activities and workshops will rather bring home the message of positivity and bringing life and happiness into your everyday life as well as the benefits of being healthy, vibrant and caring to those around you.
Youngsters will have a diverse and jam-packed day of entertainment, as well as fun and engaging activities. There will be interactive and safe areas for children to play games and sports, decorated tents to be creative through drawing, colouring and other exciting art forms and a range of workshops to bring home the positive message of "Ready, Set, Live!", which is the theme of this year's inspiring event.
The 24-hour event, set to take place on December 10th 2022 at Kashisha Park in Sharjah, is organised by Friends of Cancer Patients (FOCP) and for those wanting to join the world's largest peer-to-peer fundraiser for Cancer, they can pledge their support by registering on the website or donate directly to the cause. Each and every registration and donation will directly help change the lives of cancer patients, survivors, as well as caregivers as 100% of proceeds go towards them.
Home
>>
Events & Exhibitions Section