Home
>>
Entertainment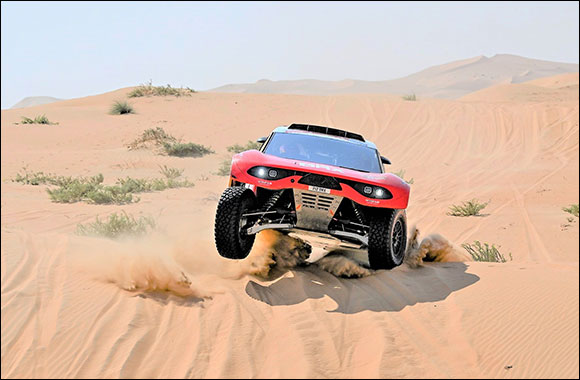 Four in a Row for BRX as Loeb's Dakar Charge continues in empty Quarter
French star extends stage-winning run for Bahrain Raid Xtreme to close in on second, as Al Attiyah retains overall lead in Saudi
12th January, 2023: After a fourth successive stage victory for Bahrain Raid Xtreme, Sebastien Loeb aims to extend his winning run as the Dakar Rally continues its dramatic passage through the Empty Quarter in Saudi Arabia tomorrow.
Partnered by Fabian Lurquin in his BRX Prodrive Hunter, Loeb's victory on today's 247km 11th stage, his fifth in this year's event and 21st overall, moved him within reach of outright second place with three days remaining.
It was another day to underline the power and versatility of the Prodrive Hunters, with Guerlain Chicherit and Alex Winocq recovering from a difficult time yesterday to take second place, within 2mins 16 secs of the nine-time World Rally Champion.
Also recovering superbly after yesterday's broken suspension, Vaidota Zala and Paulo Fiuza were on course for another podium finish in the third Prodrive Hunter today before coming to a halt for 20 minutes before resuming.
Fifth fastest today, Nasser Al Attiyah has an overall lead of 1 hr 21 mins 4 secs in his Toyota from Lucas Moraes, but the Brazilian driver is under pressure in second place in his Toyota, with Loeb now just 9 mins 37 secs away.
The first half of the two-day Shaybah Empty Quarter Marathon stage delivered the cars to a remote bivouac set amongst huge dunes, reflecting the early days of the Dakar before the arrival of the Internet and smart phones.
With assistance trucks and mechanics also excluded, there was a strong emphasis today on protecting the cars, as there will be tomorrow, and Loeb produced a master class in all-round driving through the majestic, but potentially hazardous, dunes of the Empty Quarter.
After securing another maximum points-haul with his latest stage victory, he has extended his lead over Al Attiyah in the World Rally-Raid Championship standings, with finishing positions in Dammam on Sunday to decide who leads after this year's opening round.
Chicherit, who felt ill on yesterday's stage after a hard impact, again underlined his liking for the Prodrive Hunter which he drove to a milestone first victory for the car in the Rallye Du Maroc three months ago.
Home
>>
Entertainment Section