Home
>>
Entertainment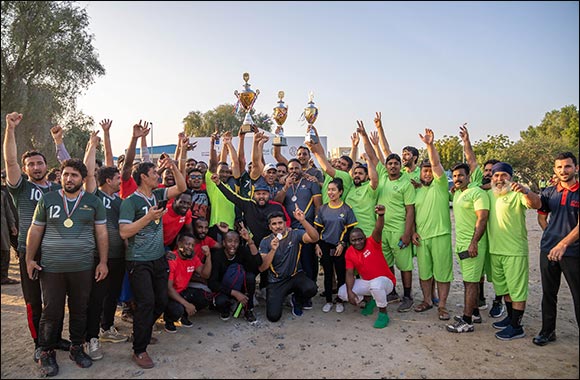 Desert Group wins Tug of War Competition's Title of the 4th Labor Sports Tournament
Remarkable Success & Distinctive Participation in the Various Competitions of the Tournament
The various competitions of the 4th Labor Sports Tournament continue at several locations of Dubai with remarkable participation of 20 thousand laborers from different companies working in the Emirate of Dubai and it is scheduled to be concluded on 31st March 2023.

The Tournament, the biggest of its kind, is organized by Dubai Sports Council (DSC) in collaboration with the Permanent Committee of Labor Affairs in Dubai, Dubai Police & Dubai Municipality, under title "Their Happiness is Our Goal".

Participants in the Tournament compete in 10 sports competitions; as follows: football, basketball, volleyball, badminton, arm wrestling, yoga, tug of war, cricket, road race & swimming.

The arm wrestling competition will be launched Sunday 22nd Jan. 2023 at Dulsco Pitches in Al-Quoz Area with participation of 100 players.

The tug of war competition was successfully organized from 8th to 15th Jan. at Al-Quoz Park with participation of 430 players represented 43 teams from 30 companies. Desert Group Team won the competition's 1st place, followed by Emrill in the 2nd place and then Al-Nabooda in the 3rd place. In conclusion of the competition, winners were awarded cups & medals by Mr. Abdulla Shukri, the Secretary General of the Permanent Committee of Labor Affairs in Dubai and DSC's Representative.

The yoga competition will take place on 5th Feb. at the DP World in Jebel Ali and the kabaddi competition will be held on 12th Feb. at Al-Garhoud Area. The basketball competition is scheduled from 19th to 26th Feb. at Dulsco pitches in Al-Quoz. The cricket 2 competition will be launched from 9th to 23rd March at the Cricket Stadium in Jebel Ali.

The swimming competition will be organized on 15th March at Dubai Municipality Club in Al-Jaddaf.

The competitions of the Labor Sports Tournament are organized every Sunday at six locations as follows: Jebel Ali, Al-Quoz, Al-Jaddaf, DP World, DUTCO and Dulsco.

The Labor Sports Tournament is held under the sponsorship of DP World, Dubai Holding, DUTCO, Dulsco, Landmark, World Security and Taqdeer Award.

DSC organizes the Labor Sports Tournament to give laborers unique opportunity to exercise favorite sports, spend entertaining times, break the daily routine of work, boost social ties with counterparts in other entities & improve level of physical fitness. It also brings joy for laborers, provides them with physical fitness and helps them to increase productivity. The Tournament meets DSC's strategy to create a distinctive & happy sports society.

It is worth-mentioning that DSC has launched sports initiatives for laborers since 2010, under title "The First Labor Sports Festival", with participation of thousands of laborers of various ages & multi-nationalities. Since then, these sports initiatives have acquired special attentions and attained remarkable development. DSC is currently organizing the 4th edition of the Tournament with distinctive participation of more than 20000 laborers.

Thanks to the remarkable cooperation between Dubai Sports Council & Taqdeer Award, new sports standards have been added to enable distinguished companies & laborers win the Taqdeer Labor's Award. These standards comprise sports facilities & utilities, which are provided by corporations / numbers of sports events, organized by these corporations besides numbers of laborers participating in championships / titles achieved. Corporations which meet these standards will gain further points and may therefore be eligible to win one of the award's categories. These additions support the laborers' sports activities in corporations & companies in Dubai and boost laborers' participation in championships.
Home
>>
Entertainment Section