Home
>>
Fashion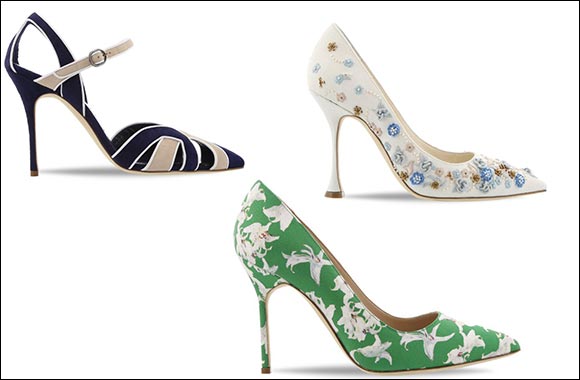 Spring 23 Women's Collection
January 23, 2023: Manolo Blahnik drew from a typically wide breadth of inspirations for the Spring 23 collection, referencing his most-admired historical eras, love of the natural world and appreciation of pioneering artists. As ever, craftsmanship and heritage have a central role in Blahnik's design process. The collection strikes a balance of tradition and modernity that is distinctively Manolo.
Blahnik's characteristic decade-spanning sartorial references are woven effortlessly through the collection. Refined nods to 18th century trims, the romantic allure of Elizabeth Taylor and the era-defining mod movement appear in striking colour palettes while elegant 1930's couture and historic corseting inspired the most glamorous of latticing and lace-up details.
The season's lush florals come from Blahnik's endless love for the natural world with silhouettes molded after the tropical flora of his native Canary Islands, painterly prints drawn from the works of John Singer Sargent and naturalistic embellishments emulating the curl of a fern or the extravagance of a wild garden.
Bold brush strokes, organic shapes and the striking colour palettes of impressionist artists inspire innovative silhouettes, juxtaposing textures and distinct sense of line that imbue the collection with a characteristic sense of joy. Classic styles are reimagined in exuberant contrasting hues pulled from the colour-pop architecture of the Canary Islands.
Craftsmanship and heritage are central to each of Blahnik's love-forever creations, this season in the form of the most intricate embellishments and delicate embroidery. Pulling the very first shoes he designed for Ossie Clark's 1971 runway from his own extensive archives, Blahnik revives the iconic climbing ivy sandal and a timeless strappy mule.
Once again, Blahnik melds a myriad of inspirations to create an innovative collection rooted in artistry and heritage with an element of fantasy for all.
Home
>>
Fashion Section