Home
>>
Education & Training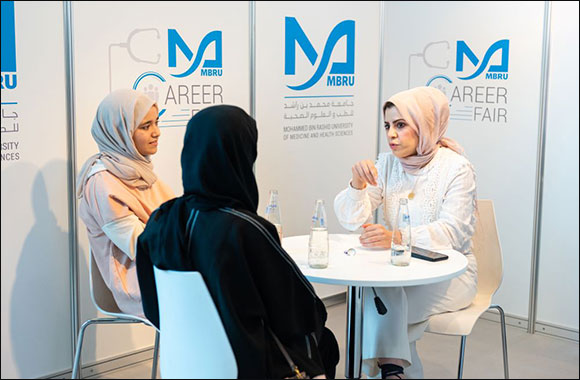 Medical Students Explore Career Pathways in the UAE and Abroad at MBRU's Second Annual Medical Career Fair
Dubai, January 31, 2023: Medical students at Dubai's Mohammed Bin Rashid University of Medicine and Health Sciences (MBRU) explored clinical and non-clinical career pathways at the second annual Medical Career Fair organized by MBRU.

Year 4-6 medical students enrolled in the Bachelor of Surgery, Bachelor of Medicine (MBBS) program at MBRU were invited to network with experienced healthcare professionals to discover training, residency, and career opportunities in the UAE and abroad. At exhibition booths, attendees gained first-hand knowledge from seasoned clinicians practicing across a range of surgical and medical specialties such as psychiatry, radiology, pathology, family medicine, pediatrics, intensive care and anesthesia, obstetrics and gynecology, emergency medicine, and humanitarian medicine from Doctors Without Borders. "It is a huge pleasure to participate in the MBRU Career Fair for the second year. We enjoy connecting with future doctors interested in joining our field projects," said Amna Haji- Regional Recruitment & Career Manager, Doctors Without Borders/Médecins Sans Frontières (MSF).

"The program was designed to give medical students an opportunity to discover the infinite possibilities a career in healthcare can offer in the UAE and abroad," explained Dr. Reem Al Jayyousi, Associate Professor of Medicine at MBRU and organizer of the event.

Throughout the day, students were given guidance on how to apply for medical residency in the UK and USA and how to approach non-clinical career pathways in academia, medical education and the pharmaceutical industry. Representatives from the Dubai Academic Health Corporation, Department of Health Abu Dhabi, and Emirates Health Services gave a comprehensive overview of their organization's medical training opportunities. MBRU faculty led interactive workshops where participants could improve upon their interview skills or work on their medical CV. The highly-anticipated 'Residents Panel Discussion' plenary hosted recent medical school graduates completing their residency placement in the UAE and abroad. In a vibrant Q&A session, attendees sought valuable insights about life as a medical resident at the Cleveland Clinic in Abu Dhabi, the UK's Solent NHS Trust, MedStar Georgetown University Hospital in the USA, and Canada's University of Toronto.

"Medicine is rapidly changing and medical education must evolve to keep pace. MBRU is now officially a part of the Dubai's first integrated academic health system, the Dubai Academic Health Corporation (DAHC), which is transforming medical education at our university," said Professor Suleiman Al-Hammadi, Dean of MBRU's College of Medicine. "MBBS students can now capitalize on the full breadth of academic and clinical training opportunities offered across Dubai's extensive healthcare ecosystem. Through DAHC, the MBBS program will cultivate physicians that are scholars, leaders, communicators, and collaborators for the healthcare needs of tomorrow," he added.
Home
>>
Education & Training Section