Home
>>
Automobile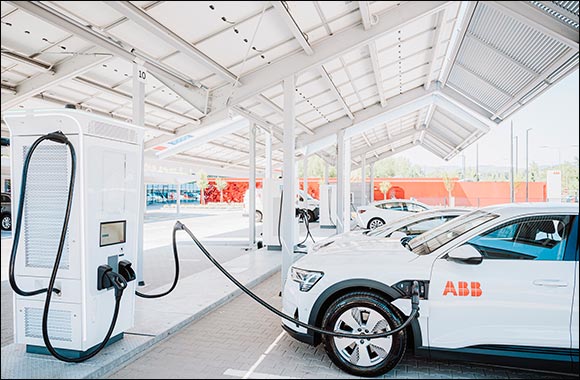 ABB E-mobility Delivers Millionth EV Charger
• ABB E-mobility has sold more than one million EV chargers globally across its AC and DC charging portfolio
• Continued growth facilitated by doubling of production capacity following launch of new DC fast charger facility in Valdarno, Italy
• In the UAE, ABB has supplied more than 80 DC fast and high power chargers making it one of largest from a single brand in operation today
ABB E-mobility has announced the delivery of its one millionth electric vehicle charger, the latest milestone in the company's ongoing mission to enable an emission-free future through smart and reliable EV charging solutions.
With a presence in more than 85 markets, the launch of ABB E-mobility's new $30 million, 16,000m2 production facility in Valdarno, Italy in 2022, completed a doubling of the company's production capacity over the last two years. The cutting-edge manufacturing site set a new benchmark for the sector, producing one DC fast charger every 20 minutes thanks to its seven production lines and enabling the company to continue the exceptional growth it has enjoyed in recent years.
In addition to its Valdarno facility, ABB E-mobility has continued its expansion globally. Earlier this month the company announced the commencement of manufacturing at its new production facility in the United States - set to produce up to 10,000 chargers annually for public charging, school busses and fleets. 2022 also saw a significant increase in ABB E-mobility's stake in major Chinese charging provider, Chargedot.
Speaking on the announcement, ABB E-mobility CEO, Frank Mühlon, said: "From the production of the EU's first 50kW charger in 2010 to the launch of the Terra 360, which is capable of delivering 100km of range in less than three minutes, ABB E-mobility has long sought to develop the innovations necessary to create an emission-free mobility future.
"While our continual investment in research and development shows our ongoing commitment to enhance the field of e-mobility, it is the global delivery of these solutions at scale which is integral to the realization of our goals. I would like to thank our customers globally for their continued collaboration in hitting this one millionth charger milestone. I look forward to the millions yet to come, and to the cleaner, greener world they will help create."
In the UAE, ABB has supplied more than 80 DC fast and high-power chargers making it one of the largest from a single brand in operation as of today in the country, including the biggest station in one location in Yas, Abu Dhabi, with 20 DC fast and high-power chargers.
'We are proud that ABB chargers are today powering electric vehicles across strategic locations in the country, including the sites of the Dubai Utility provider, DEWA and Abu Dhabi National Oil Company. Most of the car manufacturers and dealers in the UAE have ABB chargers in their showrooms and as well as car parking areas. We also ran a pilot bus project with the RTA for our charger. We are confident ABB's technical know-how, products and research in the field of E-Mobility will continue to support the decision makers in the Middle East drive the transition to an emission-free future,' said Ahmed Abdu, E-mobility division lead, Middle East and Africa.
ABB is a technology leader in electrification and automation, enabling a more sustainable and resource-efficient future. The company's solutions connect engineering know-how and software to optimize how things are manufactured, moved, powered and operated. Building on more than 130 years of excellence, ABB's ~105,000 employees are committed to driving innovations that accelerate industrial transformation. www.abb.com
Home
>>
Automobile Section