Home
>>
Healthcare & Medicine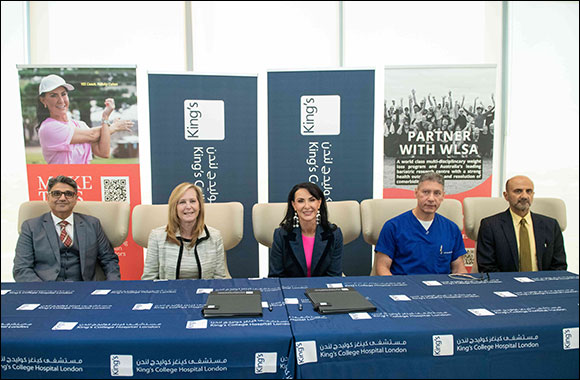 King's College Hospital Joins WeightLoss Solutions Australia to Combat Obesity in UAE
Dubai – February 03, 2023: King's College Hospital London – Dubai has inked a partnership agreement with Weight Loss Solutions Australia (WLSA) to provide patients in Dubai with access to the latest in weight loss treatments and technologies developed by the Australian organization. The partnership will allow patients to benefit from the expertise of both organizations.

The partnership aims to alleviate the health challenges associated with obesity as recent studies have shown that over 60 per cent of adults in the UAE are either overweight or obese. Experts have estimated that such high rates can be attributed to factors such as unhealthy dietary habits, lack of physical activity, and a sedentary lifestyle. Further, this has also caused an increased risk of other related health problems such as diabetes, heart disease and stroke.
The partnership between King's Hospital and the WLSA will focus on helping patients achieve sustainable weight loss through a combination of lifestyle changes, medical interventions, and psychological support. Further, the partnership aims to have an overall positive impact on the broader local community in Dubai by addressing the factors that cause increased rates of obesity in the UAE.

Commenting on the partnership, Kimberley Ann Pierce, CEO of King's College Hospital London – Dubai, said, "We are happy to join the WLSA in combating obesity in the UAE and helping patients lead healthier and more fulfilling lives. We believe that WLSA is the right partner for us because we are aligned in our values and mission, given that we believe patient care to be our first priority. We are driven by the best practices to achieve the best health outcomes for our patients."
"Obesity is a challenging health condition that affects people all around the world. According to the National Health Survey, adult obesity in the UAE in 2019 was 27.8 per cent and surveys have also shown that today, two-thirds of the UAE population is in an unhealthy BMI (Body Mass Index) range. It is important that we provide people with the help they need through effective weight loss treatments and strategies so that they can not only lose weight but are also able to successfully keep it off in the long term," she added.

Felicity Cohen, CEO of WeightLoss Solutions Australia, said, "WLSA offers innovative weight loss solutions that are consistently at the forefront of innovation and treatment in the domain of weight loss. Through our partnership with King's in Dubai, we will be able to bring our novel solutions for weight loss to patients in the UAE."

"We strive to make advanced and cutting-edge treatments for obesity accessible to all by delivering the best clinical and exceptional patient experience. By combining our proven and holistic weight loss solutions with the world-class healthcare infrastructure and the diverse expertise of medical professionals at King's Hospital, we can help patients to deal with obesity and live longer, happier and healthier lives," she added.
King's College Hospital has four facilities in the UAE, including its state-of-the-art 100-bed hospital facility located at the heart of Dubai Hills, as well as medical centres based in Jumeirah and Dubai Marina.

WSLA provides various weight loss services including guidance, support, and tools to assist individuals in creating lifelong sustainable changes that will allow them to lead a healthier lifestyle for longer.
The Australian organization will combine its technological and medical expertise with that of King's College Hospital London – Dubai. These include exceptional medical care and a comprehensive multidisciplinary approach to obesity and diseases such as diabetes and high cholesterol whilst ensuring high safety standards.
Home
>>
Healthcare & Medicine Section