Home
>>
Healthcare & Medicine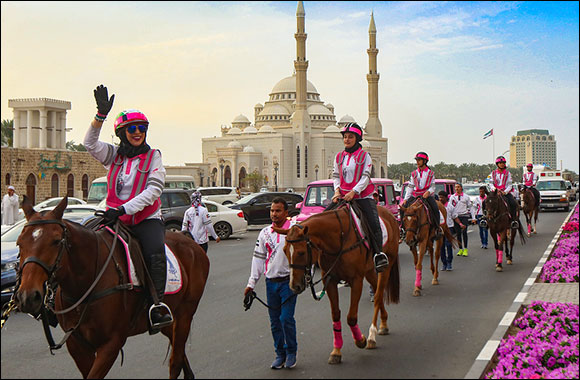 11th Pink Caravan Ride Brings Awareness and Early Detection to the Forefront in the UAE
The annual awareness campaign offers free screenings to men and women across the seven emirates
More than 150 volunteers and 100 equestrians will embark on the nationwide campaign
More than 35 fixed, mobile and Minivan clinics will offer free screenings
Offers clinical, ultrasound, and mammograms for both women and men
Sharjah, February 3, 2023
Under the patronage of His Highness Sheikh Dr. Sultan bin Muhammad Al Qasimi, Supreme Council Member and Ruler of Sharjah, and Her Highness Sheikha Jawaher bint Mohammed Al Qasimi, Wife of the Ruler of Sharjah and Founder and Royal Patron of Friend of Cancer Patients (FOCP), the 11th edition of the Pink Caravan Ride (PCR) will kick off its annual weeklong trek across the seven emirates tomorrow (Saturday) to raise awareness on breast cancer awareness and highlight the importance of early detection through its provision of free medical screenings and expert consultations to members of the community.
Organised by the FOCP between February 4 and 10, the annual ride will run under the theme 'Powered by You' to underline the power and energy that the PCR derives from every person in the UAE community, including equestrians, medical staff, volunteers and members of the general public.
The annual awareness campaign will begin at 8am from Al Heera Beach and travel through Sharjah and Ajman, coinciding with World Cancer Day on February 4.
To mark the internationally recognised day, the PCR's inaugural day will raise awareness on preventable types of cancer, including breast, skin, colon, prostate and testicular cancer, in addition to childhood and cervical cancer.
Free medical screening
Throughout the nationwide trek, the PCR will offer free breast cancer screenings, including clinical, ultrasound, and mammograms for both women and men through its fixed and mobile clinics, in addition to minivans. The screenings will take place from 4pm to 10pm to give the public the opportunity to receive hassle-free testing.
PCR route
On Day 1, horse riders will raise awareness and meet the public in Sharjah and Ajman, while on Day two, the PCR will march in Dubai before returning to Sharjah on Day 3.
The pink brigade will be trekking and engaging with the public in Umm Al Quwain on Day 4 before travelling to the eastern coast and raising awareness in Fujairah on Day 6.
The northernmost emirate of Ras Al Khaimah will welcome the horse riders on Day 6, and then, finally raising awareness and concluding the annual campaign with a grand ceremony at the UAE capital, Abu Dhabi.
More than 35 fixed, mobile, and minivan clinics
The PCR has dedicated 10 fixed clinics across six emirates that will offer free breast cancer screenings and increase community awareness of the disease. The facilities will operate from 4pm to 10pm between January 20 to February 10. Sharjah will be home to four clinics, Dubai two, and one each in Ajman, Umm Al Quwain, Ras Al Khaimah, and Fujairah. This year, more than 35 mobile clinics and minivans will accompany horse riders on their trek around the seven emirates.
Since 2011, the PCR has been travelling across the seven emirates annually to raise awareness on the importance of early detection of breast cancer, offering free medical consultation and screening to UAE residents. To date, 910 volunteers have dedicated over 400,000 work hours, 820 equestrians from many different nations have travelled more than 1,950km, and 986 PCR medical clinics have conducted over 75,000 free screenings, including 13,000 screenings for men.
Home
>>
Healthcare & Medicine Section