Home
>>
Banking & Investments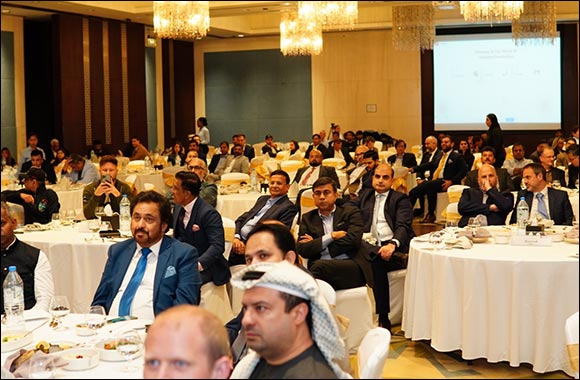 Indo-Arab Professionals Launch, Funding Possibilities in Dubai to Fill a Gap for New-Age Businesses
Funding Possibilities will help fund innovative and disruptive new-economy businesses to grow and in turn help the UAE economy to expand fast
Date: Dubai, UAE; January 30, 2023
A group of six professional entrepreneurs across the UAE and India, who have invested in more than 75 start-ups and helped businesses raise US$500 million worth of capital, have joined hands to launch a Fintech Platform called Funding Possibilities, that will connect start-ups with investors, borrowers with lenders and buyers with sellers. The mission of this platform is to bridge the gap between investors and new age businesses.
Funding or access to capital has been a major hindrance to growth of the start-ups, micro, small and medium enterprises (MSMEs) in the UAE. Funding Possibilities will be a sought-after platform for both seekers and providers of capital, providing access to various forms of capital beyond equity, including traditional debt, alternative and structured finance. It aims to make private markets more accessible and transparent.
It seeks to give retail investors access to start-ups and enable retail investors to contribute to the overall start-up ecosystem and new age businesses. Funding Possibilities is as sector and stage agnostic platform and aims to help build more than 10 profitable unicorns, i.e. Profi-Corns in the decade to come.
The launch of Funding Possibilities comes barely three weeks after the launch of the Dubai Economic Agenda 'D33' by His Highness Sheikh Mohammed bin Rashid Al Maktoum, Vice-President and Prime Minister of the UAE and Ruler of Dubai, that includes 100 transformative projects, with economic targets of Dh32 trillion over the next 10 years, doubling its foreign trade to reach Dh25.6 trillion and adding 400 cities as key trading partners over the next decade.
More than 400,000 SMEs operate in the UAE. They represent more than 60 per cent of the UAE's non-oil economy and provide employment opportunities for 86 per cent of the workforce in the private sector, the Khalifa Fund for Enterprise Development reports.
"Dubai will rank as one of the top four global financial centres with an increase in FDI to over Dh650 billion over the next decade and an annual Dh100 billion contribution from digital transformation. Over 300,000 global investors in Dubai today are helping build Dubai into the fastest growing global city," HH Sheikh Mohammed Bin Rashid Al Maktoum said in a statement.
Dubai is home to more than 10,000 small and medium start-ups. Funding is crucial for the success of the start-ups as well as MSMEs. In order to fulfil the Vision D33, more funding options for small businesses and start-ups will have to be deployed to help the grow and create employment. Funding Possibilities would play a significant role in helping the start-ups and new age businesses to grow and become profitable unicorns ie Profi-Corns in future. This in turn will help these businesses play an important role in realizing Dubai Government's D33 Vision.
Sheetal Soni, CA, CFA Charter Holder and Founder of Funding Possibilities, says, "Increasing funding options are a need of the hour for the UAE's new-age businesses. Funding Possibilities is set to fill a clear gap in the private sector providing innovative and quality funding channels for them to grow and fuel the growth of the UAE economy.
"The launch of Funding Possibilities is well timed with the announcement of D33 – that will accelerate the growth of the economy of Dubai and the UAE in the next decade. It will bring investors closer to the start- ups for multi-stage funding and provide small businesses with growth capital."
Start-ups across the Middle East, Africa, Pakistan and Turkey raised $7.2 billion through 1,473 deals last year, despite macroeconomic and geopolitical uncertainty, according to a report by data platform Magnitt. With Funding Possibilities, this number will grow at a fast pace to help thousands of start-ups that are in various stages of their lifecycle.
The Funding Possibilities team comprises of well-experience and qualified chartered accountants, CFA Charterholder, a tech geek as well as serial business entrepreneurs.
Prateek Toshniwal, CA and Co-Founder of Funding Possibilities, says, "We will serve the business community with curated deals to suit their needs, ease informed investment through a four-dimensional due diligence process, provide ease of exits and need-based relevant information at the user's palm.
"In a nutshell, we want to build a community of start-ups, investors, bankers, alternative finance providers, wealth managers, private equities, family offices, venture capitalists, credit insurers and all other private institutional players.
"We will create a knowledge and resource bank for start-ups, create an eco-system to find the right co- founders, help them in ease of capital raise through various sources of capital, handhold at various stages of their journey from incubation to profitable unicorns."
In future, the platform will help raise debt, structured trade finance, alternative finance, revenue-based financing, venture debt for businesses, Funding Possibilities will collaborate with professionals, private institutions and bankers throughout the region for funding good deals in most efficient manner in debt space. It will ease out the process of debt and alternative finance both for businesses and financial institutions providing capital as the curated deals will reach the respective funding partners through tech-driven end-to-end process.
It will also enable merger and acquisitions and help in buy outs or strategic investments. Funding Possibilities will help connect the right companies to each other and we also will collaborate with private equities, institutional investors, family offices to foster consolidation.
Home
>>
Banking & Investments Section