Home
>>
Banking & Investments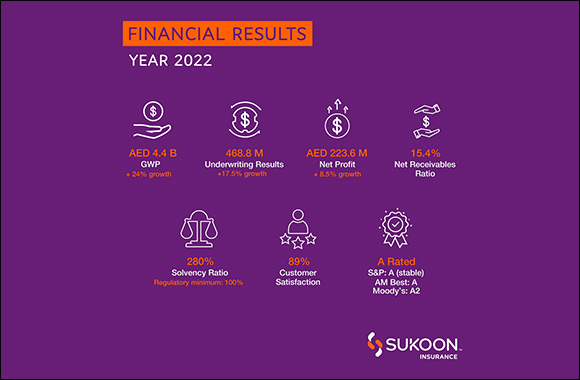 Oman Insurance Company P.S.C. ("Sukoon") Reports Net Profit of Aed 223.6 Million (+8.5% Growth); One of the Highest Net Profits in the History of the Company
Febraury 10, 2023: Oman Insurance Company P.S.C. ("Sukoon") released its 2022 full-year financial results today, reporting a net profit of AED 223.6 million which is an 8.5% growth compared to the prior year. This year's net profit is one of the highest net profits in the history of the company. It is also the first time the company has crossed the AED 4 billion mark in gross written premiums in a financial year showing a growth of 24% versus last year.

These results are supported by sustainable underwriting income growth in all segments of the business, robust investment income and well-managed expenses. Net receivables ratio has reached an all-time low of 15.4% which is one of the lowest in the UAE insurance market that reflects company's strong emphasis on generating free cashflows. In addition, the company's solvency capital requirement (before the proposed dividend) reached its highest level of approximately 280% (minimum regulatory requirement is 100%) reaffirming their strong ability to meet policyholders' obligations.

As part of the strategic initiatives the company began full operations in its Lloyds Syndicate 2880 with 5 dedicated underwriters. Strategic investments in digital transformation continue to remain an area of focus. The Company has also entered into strategic partnerships with AG Cars Services and Aster Healthcare to strengthen our Motor and Medical insurance solutions. In addition, "Health Extend" medical solution has recently been launched with a unique top-up offering for corporate and individual customers.

Commenting on the results, Jean-Louis Laurent Josi, Chief Executive Officer at Sukoon, said, "The results are a clear reflection of our industry-leading initiatives, robust financial strength, and exceptional liquidity to settle valid claims timely and our vision to be a reference for customer excellence. With the strong foundations, we will continue to focus our efforts on digital transformation, improving technical expertise, implementing lean initiatives, and enhancing customer satisfaction."

During 2022, Sukoon got upgraded from 'A- to A with stable outlook' by Standard & Poor's, maintained its strong financial ratings of 'A' by AM Best, and 'A2' by Moody's. The company also received multiple accolades, notably: Insurer of the Year, Life Insurance Company of the Year, Digital Initiative of the Year, among others.

The company has started a new chapter in its history by launching a fresh brand and corporate identity "Sukoon". 'Sukoon' meaning peace of mind in three most widely spoken languages in the region, embodies their diverse customer base, corporate dynamism, and proven resilience as they charge towards the future of insurance.
Home
>>
Banking & Investments Section