Home
>>
Entertainment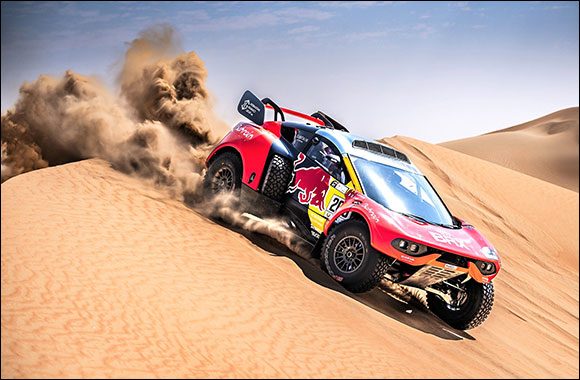 Loeb Sends Out Title Warning as Crash Threatens Al Attiyah's Desert Challenge Run
Frenchman keeps Bahrain Raid Xtreme in championship hunt as stage ends in drama
Abu Dhabi, UAE 1st March, 2023: Sebastien Loeb delivered a powerful reminder today that he will battle Nasser Al Attiyah all the way in the World Rally-Raid Championship as the Qatari's bid for a fourth victory in the Abu Dhabi Desert Challenge was threatened by a dramatic crash.
Loeb and co-driver Fabian Lurquin in the Bahrain Raid Xtreme Prodrive Hunter were second fastest on the day to Al Attiyah, who finished the 266 km third stage with the rear bodywork, roof and windscreen ripped off his Toyota.
At that point, the defending champion held a 27 mins 3 secs overall lead from Saudi Arabia's Yazeed Al Rajhi in another Toyota, but his mechanics faced a major task to get his car to the start of tomorrow's penultimate stage.
Just 48 hours earlier, Loeb's BRX technicians had kept the nine-time World Rally Champion in the Desert Challenge by fitting a new engine to the Prodrive Hunter in record time.
After he bounced back with the second fastest time yesterday, Loeb later suffered a 15 minute penalty for missing a waypoint through a digital road book failure.
Quickly shrugging off that setback, he kept up the hunt for world championship points today, clocking a time within 48 seconds of Al Attiyah, who recovered to complete the stage after his accident in the last few kilometres.
Martin Prokop lies third overall in his Ford Raptor, with Denis Krotov in a Mini, Seth Quintero in a CAN-AM Maverick X3 and the Toyota of Argentinian Juan Yacopini completing the top six.
This is only Loeb's second Desert Challenge outing in the BRX Prodrive Hunter, but he knows the event has produced many dramatic moments in its 32-year history to decide, or at least influence, title races.
Today brought another reminder, although the Frenchman is certainly due a trouble-free run through the last two days, based on his misfortunes of the first two long desert stages.
Home
>>
Entertainment Section