Home
>>
Government, Legal & Humanity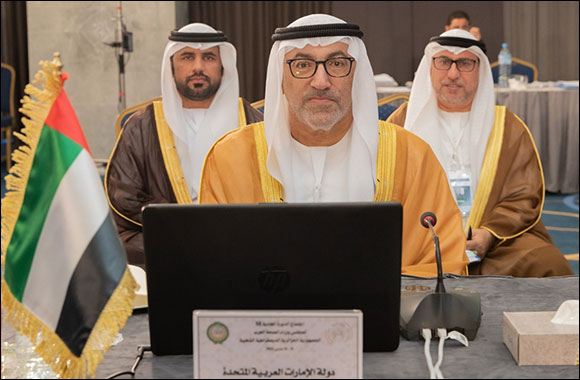 UAE takes part in 58th Regular Session of the Council of Arab Ministers of Health
Minister of Health: Supporting joint Arab action in the health field, in line with the UAE's directives
Dubai, March 15, 2023: HE Abdulrahman bin Mohamed Al Owais, Minister of Health and Prevention (MoHAP), led the UAE delegation to Algeria for the 58th regular session of the Council of Arab Ministers of Health, which took place on March 13–14.
The ministry's participation aimed to coordinate and unite efforts in the healthcare sector among member states, strengthen collaboration to address challenges, enhance the effectiveness of health systems across different countries, and facilitate access to top-notch healthcare services.
Highlighting the UAE's commitment to playing a significant and influential role in promoting Arab endeavors, Al Owais emphasized that the country's participation in the two-day event was in line with the leadership's vision to support unified Arab action at all levels, especially in the health field.
The minister added that the UAE's involvement in the regional meeting also aimed to strengthen collaboration and experience-sharing, and leverage latest developments in science and technology to bolster the health and wellbeing of Arab societies.
Joint coordination
Al Owais expressed his confidence that the decisions and recommendations made during the meeting would improve collaboration among Member States. He highlighted the importance of addressing priority health issues and promoting integration of efforts across all levels to achieve universal health coverage. Al Owais emphasized that such efforts would ultimately lead to a higher standard and efficiency of healthcare throughout the Arab world.
Agenda
During the meeting, Arab Health Ministers reviewed several reports, including those from the Technical Secretariat of the Council of Arab Ministers of Health since the previous regular session (No. 56). They also discussed the healthcare achievements of Arab Member States, along with various topics related to the Arab Strategy for Health and Environment, the Arab Guiding Law to Support the Rights of the Elderly, medical tourism, and health travel. Additionally, they explored ways to establish Arab health authorities to improve coordination, as well as the third edition of the Arab Chinese Cooperation Forum in the healthcare sector.
Home
>>
Government, Legal & Humanity Section