Home
>>
Healthcare & Medicine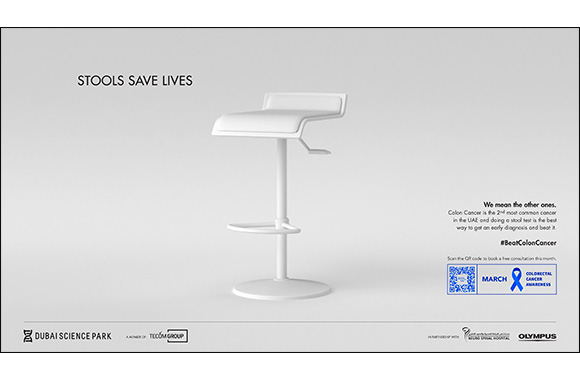 Dubai Science Park Launches Awareness Campaign for Colon Cancer, Second Most Common Cause of Cancer in the UAE
• Colon Cancer accounts for nearly 9% of total cancer deaths in the UAE
• Early detection and treatment increases the 5-year survival rate to 90%
• Dubai Science Park and Neuro Spinal Hospital are partnering to offer free medical consultations until mid-April
Dubai, UAE, 21 March 2023: Colon cancer is the second most common cancer in the UAE – but also one of the easiest cancers to prevent. Dubai Science Park, a member of TECOM Group PJSC, is launching an interactive awareness campaign to educate UAE residents on the importance of early screening for the detection of colon cancer as part of National Colon Cancer Awareness Month, which takes place throughout March until April 15th.
Colorectal cancer is the third leading cause of cancer deaths worldwide and the second most common cause of cancer deaths in the UAE, accounting for 8.9% of total cancer-related deaths. Globally, over 1.9 million new cases and 930,000 deaths were estimated in 2020, with 3.2 million new cases predicted by 2040 .
Regular screening is the key to preventing colorectal cancer. At present, only around four out of 10 patients catch colorectal cancer at an early stage before its spreads.
Under the slogan 'Stools Saves Lives', Dubai Science Park will highlight the simple, yet vital, medical detection tools for residents to check for colorectal polyps regularly. These polyps can take up to 10 to 15 years to mature, so early detection is paramount for easier and safer treatments and can increase the five-year survival rate to 90%.
Sitting stools with clever punchlines will be placed across TECOM Group business parks, urging people to get tested for colon cancer. Visitors can scan QR codes on the stool to register for free consultations and 50% off testing, sponsored by Neuro Spinal Hospital, which is located at Dubai Science Park, and use the hashtag #BeatColonCancer to help spread the word to family and friends.
Commenting on the campaign, Marwan Abdulaziz Janahi, Senior Vice President of Dubai Science Park, part of TECOM Group, said: "Health and wellbeing have always been priorities of the UAE leadership, further emphasised under 'We the UAE 2031'. Over almost 20 years, Dubai Science Park has championed medical excellence by creating a global ecosystem dedicated to players across the pharma, health and wellness sectors. Launching the ''Stools Saves Lives' campaign with our strategic customer Neuro Spinal Hospital is part of our efforts to educate residents about the importance of early screening and detection. As we strive to cement Dubai as a global medical hub, our commitment to promoting healthcare must start at home."
"The burden of colorectal cancer can be completely prevented through regular screening in its early stages. Through this partnership, we aim to increase awareness and encourage people to go for routine check-ups that could save their lives. We are proud to be working with Dubai Science Park to raise public consciousness about the importance of early detection by offering our world-class screening tests right here in the heart of Dubai's science community," said Prof. Abdul Karim Msaddi, Chief Executive Officer and Medical Director of Neuro Spinal Hospital.
Neuro Spinal Hospital, which opened its AED 700 million next-generation facility at Dubai Science Park in 2021, offers a variety of cutting-edge colorectal cancer detection tools that allow for early detection and prevention. The 'Stools Saves Lives' campaign will run throughout March until Mid-April.
Dubai Science Park is part of TECOM Group's portfolio of business districts that include Dubai Internet City, Dubai Media City, Dubai Studio City, Dubai Production City, Dubai Knowledge Park, Dubai International Academic City, Dubai Outsource City, Dubai Design District (d3) and Dubai Industrial City.
Home
>>
Healthcare & Medicine Section