Home
>>
Education & Training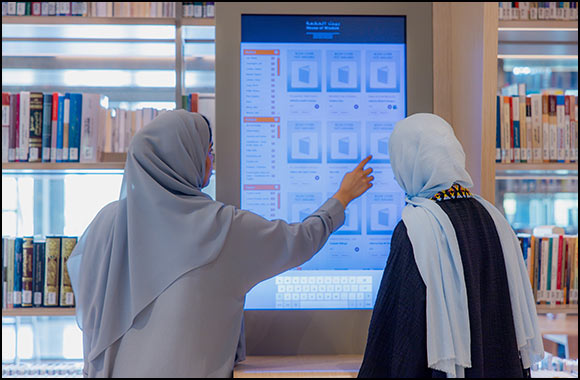 Expand Your Horizons: House of Wisdom's Annual Membership for Unlimited Learning
12-month standard and premium packages on offer by Sharjah's iconic cultural centre

Sharjah, March 25, 2023: With its annual membership packages, the House of Wisdom (HoW), has created a brand new opportunity for the UAE community to read, play, work and be entertained throughout the year, enjoying uninterrupted access to world-class sources of knowledge and spaces to bring their imaginations to life.
Members will have access to the entire collection of HoW's world-class physical and digital resources for 12 months, and depending on the membership grade, can borrow books for up to three weeks. HoW's digital library can also be accessed from the comfort of one's home or on the go on the HoW app downloadable on both iOS and Android devices.
Marwa Al Aqroubi, Executive Director, House of Wisdom, said: 'Our annual membership has been thoughtfully designed to accommodate the diverse interests, needs, and aspirations of our members, which is aligned with our goals to facilitate access to our services and cultivating a community of individuals who are enthusiastic about reading and creativity, which contributes to the growth and prosperity of our society in the long term.'
She added: "We are committed to elevating the user experience by making our services accessible to all segments of society, in line with our leadership's vision and goals aimed at creating an environment that encourages learning and creativity. We have been keen on providing special rates to students, to enable them to derive maximum benefit from the exceptional facilities and services offered at HoW."
Membership schemes
The Standard Membership comes with a host of features and benefits. Members can borrow up to 12 books for 15 days and enjoy access to all e-resources in the library, this 12-month package will allow members to enjoy a 10% discount on all HoW programmes as well as at their gift stores. HoW's futuristic meeting pods which are curated for both official or study group gatherings can also be booked at a discounted rate.

In addition to all Standard Membership benefits, Premium package members will enjoy private access to HoW's halls, each uniquely designed taking inspiration from notable figures. A 15% discount on HoW's Espresso Book Machine service will mean the member can get a book printed, cover to cover, in a matter of minutes. They will also have VIP access to the various exhibitions at HoW. They will be invited to special events and enjoy free meeting pod bookings twice a year, depending on availability.
Additionally, premium membership allows one to borrow up to 20 books for 21 days, and enjoy a massive 20% off on all the exciting programmes HoW organises to stimulate learning, new discoveries and experiences.
HoW offers students a 20% discount on membership for students. To avail the discounts, students must provide their student ID at the time of registration.
Those interested can become members via an easy online registrations process at https://register.houseofwisdom.ae/.
Members will also have exclusive free access to special programmes and curated tours of exhibitions hosted at HoW. Those who have any specific queries about the membership packages and how they work, please email at membership@houseofwisdom.ae.
Home
>>
Education & Training Section