Home
>>
Real Estate & Retail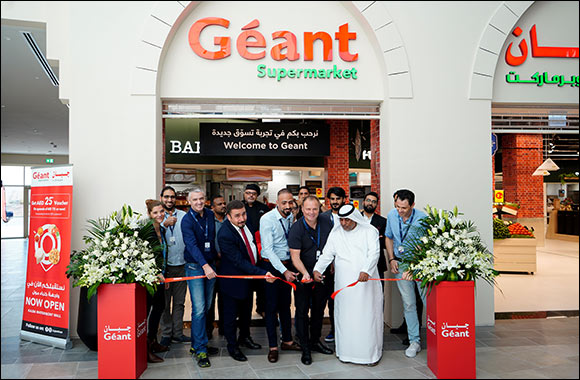 Géant Reiterates Commitment to Being the UAE Community's Choice with Exciting New Openings
• 2nd Géant Supermarket and first in Kalba now open at Kalba Waterfront Mall
• Géant Express First to Open in Port de La Mer in March
Dubai, United Arab Emirates: Géant, part of GMG, is reiterating its commitment to being the community's preferred choice across the UAE with 2 strategic and timely new openings.
Expanding swiftly across the UAE, the brand has opened its second Géant Supermarket in the Kalba Waterfront Mall, the largest retail and the first inclusive waterfront destination in the city of Kalba in Sharjah.
Offering customers who live and work in the vicinity the great value and variety that Géant is synonymous with, highlights of the supermarket experience include an extended local fresh produce range, a large fresh food section and a live grilled fishery section serving cooked food for order and pick up. There's also a special emphasis on catering to the primarily local audience with a product mix that reflects their specific needs and wants.
From weekly promotions to a discount market with special deal on non-food items (AED 30 or less), convenience and cost-effectiveness is what customers can expect across this exciting new space that is conveniently-located, offers free parking and can easily be accessed from the mall entrance.
Port de le Mer also gets its first Géant Express store, promising convenience, value and choice to residents of this exciting waterfront development in the heart of Jumeirah 1.
From freshly prepared food to go, imported and local fresh produce, to quality meats, cheese and cold cuts, global foods and bakery products, customers can now find it all in their neighbourhood.
Home delivery will also be available in the vicinity of both stores via local delivery platforms straight to your doorstep.
"Our stores, be it supermarkets, hypermarkets or the more compact Express concept, continue to thrive and act as true hubs of the community. We make a conscious effort to understand the specific needs of the distinct audiences we serve to create a convenient shopping experience, tailored to the communities, " said Marc Laurent, President, Retail – Everyday Goods at GMG.
Géant is also known regionally for its strong commitment to environmental sustainability and promoting a positive and cohesive community lifestyle, aligned with GMG's positioning as a global well-being company. All Géant Express stores and supermarkets, therefore, embrace and support UAE's single-use plastic-free agenda with paper bags a norm. They also house local fresh produce and have a large organic and healthy food offering too.
Géant Supermarket operating hours – 8 am to midnight 7days/week
Géant Express operating hours – 7:30 am to 11:00 pm 7 days/week
Home
>>
Real Estate & Retail Section