Home
>>
Events & Exhibitions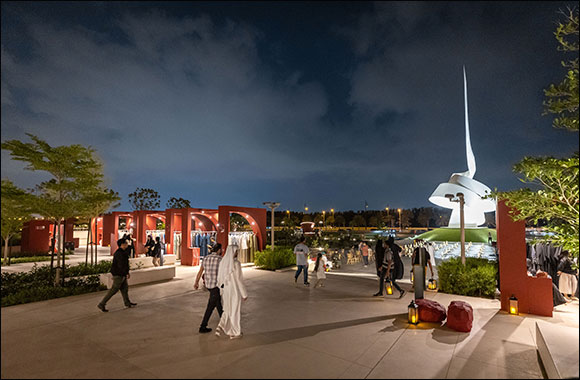 House of Wisdom's Popular Ramadaniyat Outdoor Bazaar is back for UAE Families to Enjoy
Food, shopping, fun-filled activities for children and families come together to provide an immersive cultural experience during the holy month, 8pm-2am until April 2

Sharjah, March 28, 2023: After the resounding success of its debut edition last year, the House of Wisdom (HoW) has set up its vibrant outdoor Ramadaniyat bazaar once again, offering families and other members of the UAE community an incredible opportunity to enjoy a blessed tradition of the Holy Month unique to Emirati culture.
Running every evening from 8pm - 2am until April 2nd, this Ramadaniyat bazaar is a unique opportunity to immerse oneself in the traditions of Ramadan and enjoy cultural programmes, children's activities, unique shopping experiences, food and coffee at outdoor cafes, retail booths, workshop spaces set up against the majestic backdrop of the UAE's library of the future.
Adorned with warm and glowing lanterns, the gorgeous Ramadaniyat venue aptly celebrates HoW's theme for the Holy Month this year, which is 'Giving'. The proceeds of every purchase made by visitors to the event - be it through book buying or acquiring an HoW membership - part of the proceeds will be donated by the cultural centre to Kalimat Foundation's 'Adopt a Library' initiative. The initiative was launched by the Sharjah-based global nonprofit to revive and enrich libraries in under-resourced communities across the Arab world and also improve Arab children's access to quality books and reading materials in their mother tongue.
A series of special edutainment activities will engage children who will be able to explore their creativity as well as learn more about the cultural traditions of the Holy Month at several workshops including Ramadan-inspired baking, and lantern and pottery making. These workshops seek to help promote the spirit of community, strengthen the family bond, and popularise traditional foods of Ramadan.
Moreover, HoW's popular 'Little Readers' corner is buzzing with activity - workshops and special activities at special discounted rates that will enable young ones to develop essential life skills.
Seeking to raise awareness among young visitors about the significance of giving and solidarity, HoW has created a special Ramadaniyat Kit inspired by Hala Mohamed Al Turk's work Ramadaniyat. The kit offers a daily activity calendar that will engage children in value instilling pursuits during the Holy Month.
HoW's Ramadaniyat is also celebrating UAE entrepreneurs affiliated to the Sharjah Entrepreneurship Center (Sheraa) and Sharjah Business Women Council (SBWC) who will be featuring their members at the vibrant, free-to-enter bazaar.
Home
>>
Events & Exhibitions Section