Home
>>
Government, Legal & Humanity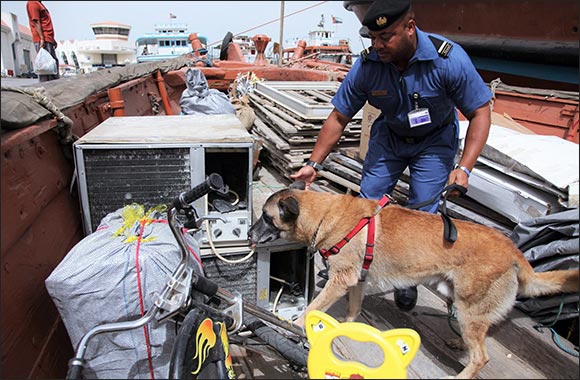 Dubai Customs: 4235 Customs Cases, including 2147 Drug Seizures in 2022
Mohamed Al-Suwaidi: Global leadership in secure customs is a main objective in the 2021-2026 strategy, with innovative solutions enhancing the ability to protect society and the economy.
Dubai – 2 April 2023: Dubai Customs' efforts in developing the customs inspection sector including training customs officers through specialized courses, equipping customs centers with the latest innovative devices, as well as developing and improving monitoring and targeting systems have resulted in the completion of 4,235 customs cases, including 2,147 drug-related seizures and 75 intellectual property seizures. In regards to customs violations and evasion of customs and excise duties, 1,393 cases were recorded in 2022.

These seizures are part of the Department's strategy to protect the community from security risks and contribute to enhancing security, which is a key factor in attracting investment. Customs agencies are the first line of defence for the community, and these efforts align with the Department's vision to become a leading customs administration in the world that supports legitimate trade.

Ahmed Mahboob Musabih, Director General of Dubai Customs and the CEO of the Ports, Customs, and Free Zone Corporation, is committed to leading global secure customs as the key objective of Dubai Customs' 2021-2026 Strategy. He emphasizes the critical role played by customs officers and inspectors in enhancing security, protecting society and the economy, and preventing the smuggling of restricted and counterfeit goods. As Dubai sets its sights on global leadership, the emirate has become an international model for combating the health risks and damage caused by drugs, with Dubai Customs effectively participating in these efforts by developing its human resources to meet the highest customs inspection standards. Dubai's position as an international trading center and a global attraction for investment and business is reinforced by its unwavering commitment to safeguarding the health and safety of its citizens and residents, as well as those in other countries who may be affected by smuggled goods passing through Dubai.
Mohammed Abdullah Al-Suwaidi, Acting Director of the Customs Intelligence Department, lauds the employees at customs ports for their unwavering security awareness towards the country, its citizens and residents, and their steadfast commitment to enhancing Dubai's and the United Arab Emirates' global status. Their efforts are crucial to protecting human lives, economies, and societies from the grave risks and damages caused by smuggled goods. By continuing to maintain the highest standards of customs inspection, Dubai Customs is sending a strong message to the world that it will not tolerate any compromise on the safety and security of its people, the global community, and the global trade system.
Smart Systems
Dubai Customs has implemented a range of smart systems to support their security efforts, including the Smart Risk Engine. This intelligent system is fed with information from multiple channels about shipments playing a key role in controlling prohibited and restricted materials. Customs intelligence in Dubai Customs analyzes this information to identify risks and intercept suspected shipments. The Smart Risk Engine was developed internally, following global best practices in risk systems. Additionally, the organization developed a new version of the smart inspection table for travelers, known as the 'Smart Table' initiative. It is linked with other customs systems, including the reservation system and Mersal 2, to enhance efficiency and accuracy in screening shipments.
Disruptive innovations
Dubai Customs has developed numerous innovative customs inspection systems, including the 'Smart Deterrence Drone,' a 3D-printed drone protected by a mesh rubber shield that makes it resistant to impact. This drone efficiently and accurately inspects narrow and hazardous areas in air, sea, and land that may endanger inspectors' safety. It is equipped with motion sensors to prevent collision and a 4K resolution camera with night vision to record images and videos inside for accurate documentation purposes. It is also designed to connect to the Dubai Customs control and command room. Another innovation is the 'Siyaj Buggy,' which is used to inspect underneath vehicles and trucks, featuring high-resolution imaging with recording and storage capabilities, a 360-degree imaging range, and a control range of up to 30 meters, aimed at enhancing the Customs inspection system for the 'Siyaj' initiative. Additionally, the 'Customs Dolphins' is a highly advanced water robot resembling a dolphin with an ultra-wide waterproof camera that can automatically scan a designated area in the sea identified by GPS, with a control and image transfer distance of around 1000 meters.

In 2022, Dubai Customs Intelligence Department achieved numerous local, regional, and international accomplishments by solidifying its relationships with relevant authorities, contributing to several joint operations internationally to reduce smuggling of prohibited and dangerous materials. As a result, the department received widespread praise from the Australian Consulate in the country, appreciation certificates from the German Consulate, the Middle East Regional Office (RILO), the French Consulate, and the Container Security Initiative (CSI) office.

Adel Al-Suwaidi, Director of Technical Support, said: 'We are committed to developing customs inspection systems using the latest smart applications for information technology and artificial intelligence to keep pace with the continuous development of monitoring and inspection operations.'
Al-Suwaidi also stated that Dubai Customs plays a vital role in supporting the capabilities of customs centers by providing advanced inspection equipment and smart systems, and by training customs dogs in the K9 unit to ensure their constant readiness in detecting attempts to smuggle prohibited substances.
The technical support department also ensures continuous and precise monitoring to develop the capabilities of the K9 unit, guaranteeing its constant readiness to carry out its vital mission.
Home
>>
Government, Legal & Humanity Section