Home
>>
Entertainment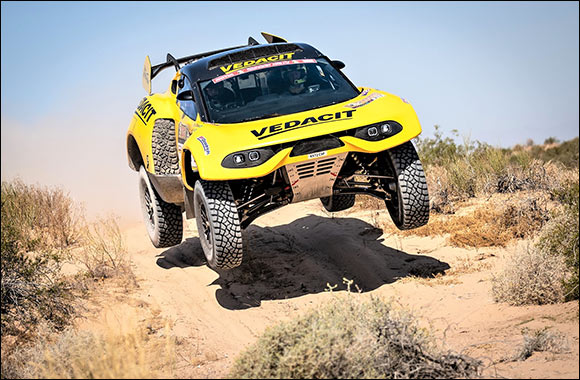 BRX Aim for Big Finish after Al Attiyah Wins in Mexico to Lead Title Race
Prodrive Hunter hailed as 'car from another planet' after tough championship battle
29th April, 2023: Bahrain Raid Xtreme reached the end of the latest World Rally-Raid Championship episode in Mexico with more glowing praise for the Prodrive Hunter as Nasser Al Attiyah took the lead in the title race.
While Sébastien Loeb and Fabian Lurquin have slipped to third place in the championship following a second leg exit in their BRX Prodrive Hunter, with two rounds remaining in Argentina and Morocco, the WRRC battle is far from over.
The final two rounds of last year's championship brought back-to-back victories for the Hunter, and Loeb knows he has the car to produce the desired results this time around and give BRX another big finish.
This was underlined on the final day of the Sonora Rally, as Al Attiyah secured victory in his Toyota by 6 mins 22 secs from Saudi Arabia's Yazeed Al Rajhi, who set the fastest time on the last stage to go second in the championship behind the Qatari.
The BRX Brazillian partner team had looked to be heading for a stage win in one of their two Prodrive Hunters as Cristian Baumgart led from his brother Marcos at well past the half way point, before both got stuck in the sand dunes, denying each a top ten overall finish.
Marcos Baumgart quickly shrugged off the setback to say: "First time in the Hunter and we were top three on stages against world champions and rally heroes. That's very cool, and remember what I said on the first day - this car is from another planet."
Starting the final stage low down the order after their electrical problems on the previous day
Guerlain Chicherit and Alex Winocq salvaged the day's sixth best time, despite having to cut through clouds of dust kicked up by the cars ahead.
"Once more, the car was really good out there as I know I have the right speed all the time without taking any risk and without needing to push," said Chicherit. "Overall, the result hurts because we restarted with time penalties, but we still have the speed in the Hunter and we're not finished yet."
BRX will now wait for Loeb's co-driver Lurquin to recover from the broken shoulder he suffered in a third leg tumble into a dry riverbed, just 24 hours after a superb stage victory.
Home
>>
Entertainment Section