Home
>>
Banking & Investments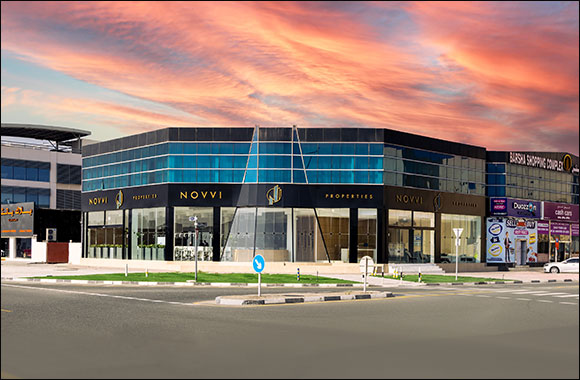 NOVVI Properties Launches Its 360° Home & Business Solutions Agency
The one-stop-shop introduces a new solutions-centric experience for businesses and consumers by providing end-to-end services all under one roof, supporting all aspects related to moving to, moving within, and operating in Dubai
(Dubai, United Arab Emirates - 4, May 2023) NOVVI Properties is proud to officially launch its 360° home and business solutions agency that aims to simplify the entire experience of managing your day-to-day business and personal needs, no matter where you are on your journey in Dubai.
The processes involved with selecting, managing, relocating to and investing in a property, and all that comes with it, can be cumbersome for newcomers and seasoned Dubai residents. Whether individuals or entities are looking to relocate, expand their businesses, buy, sell, rent, list properties, and arrange related tasks including property management, a comprehensive all-in-one service provider can offer a seamless and hassle-free experience. It is consistent, convenient, saves time, provides tailored guidance that reflects your values, avoids misinformation between vendors and third parties, and is cost-effective.
"We were inspired to take a solution-centric approach and create NOVVI Properties after seeing the pain points that individuals face when moving to Dubai, simple bureaucracy or lack of knowledge on the commercial spectrum. I have seen how overwhelming it can be for individuals, from finding a place to stay to relocating and organising the visa and setting up your business. We are focused on win-win results by understanding the needs and requirements of our clients and serving as their expert end-to-end solutions provider," said Aziza Bouziane, Chief Operating Officer of NOVVI Properties.
NOVVI Properties' key services take you from A to Z and include Residential, Off-Plan & Investment, Commercial and Project Leasing, Property Management, Maintenance, Holiday Homes, Concierge and Relocation, PRO Services, Staging and Design Planning. Each solutions-centric service included in the portfolio has been curated from research based on stakeholder needs and best practices in the market.
Clients are guaranteed access to an expert team with decades of experience in the market that is dedicated to delivering excellence to our residential and commercial clients, alongside a luxurious experience. The NOVVI Properties experience includes a VIP Car Service that transports clients to property visits, arranges 3D virtual reality viewings, as well as an in-house chef that ensures you're taken care of during your visit to the agency/office.
Cutting-edge technologies, like virtual reality, now make virtual 3D property tours possible, allowing potential buyers to explore the property in the environment they are in. With 75% of buyers being from overseas, they can get a better understanding of the asset even before the construction of the actual infrastructure, or tour properties on the secondary market without traveling, especially over the summer in the scorching 55°C Dubai summer heat.
"With the expected population of Dubai to rise to 5.8 million by 2040, we knew we had to create an all-encapsulating solutions service that covered every aspect of real estate, from Residential to Commercial, as well as Off-Plan Investment, PRO Services, Staging and Design Planning, as well as Holiday Homes and Maintenance. NOVVI Properties aims to redefine the way you think, feel, and do when it comes to your everyday real estate needs," added Aziza Bouziane, Chief Operating Officer at NOVVI Properties.
Aziza curated an A-team for NOVVI Properties including a Property Team, Services Team, Marketing Team, and Support Team, each with different responsibilities, from technology to property management, to creative design, and recruitment. All of these work in tandem and are geared towards being a more robust setup, with a personalised approach, to handle the everyday needs of clients.
Home
>>
Banking & Investments Section