Home
>>
Education & Training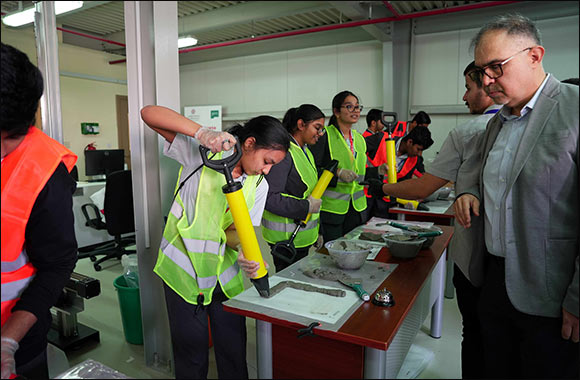 Abu Dhabi University concludes the 4th ADU-ASU Research Forum 2023
Under the theme of: Concrete in hot weather, building for tomorrow, innovations in sustainable design and 3D printing of smart construction
• The event was sponsored by several international and national industrial companies including: Schwarzwälder Textil-Werke Heinrich Kautzmann GmbH (STW) Germany, KTI Plersch Kältetechnik, Germany, VIP-Various Ice Product (UAE) and Transgulf Readymix Concrete (UAE)
Abu Dhabi, UAE, 29 May 2023: Building on the success of the three previous editions, Abu Dhabi University's (ADU) College of Engineering (CoE) hosted the 4th ADU-ASU Research Forum 2023, under the theme of 'Concrete in Hot Weather: Building for Tomorrow, Innovations in Sustainable Design and 3D Printing for Smart Construction,' in collaboration with School of Sustainable Engineering and the Built Environment at Arizona State University (ASU). The Forum presented a significant contribution to the production of 3D printing sustainable concrete suitable for the UAE's environmental conditions.
The Forum was inaugurated by Dr. Samer Al Martini, Chair of the Forum and Associate Professor of Civil Engineering at ADU, Prof. Thomas Glas-Hochstettler, Provost of ADU and Dr. Hamdi Sheibain, Dean of the College of Engineering at ADU.
The event serves in line with two United Nations sustainable development goals, SDGs three and nine. The Goals aim to ensure maintaining the health and well-being of individuals as well as promoting construction resilience and solid infrastructure for inclusive and sustainable industrialization. By addressing these goals, the Forum seeks to generate innovative outcomes that serve in line with the UAE's year of sustainability and contribute to the ongoing growth of the country's knowledge-based economy.
The Forum was inaugurated through strategic partnerships with the American Society of Civil Engineers (ASCE) led by ASCE Director Region, Dr. Elias Al Sayah and ASCE's President Dr. Reem Sabouni, Abu Dhabi Municipality and Society of Engineering, in addition to the Forum supporters including Karlsruhe Institute of Technology (KIT) and the Arab Youth Center (UAE).
The event was sponsored by several international and national industrial companies including Schwarzwälder Textil-Werke Heinrich Kautzmann GmbH (STW) Germany, KTI Plersch Kältetechnik, Germany, VIP-Various Ice Product (UAE) and Transgulf Readymix Concrete (UAE).
The two-day Forum provided students, scientists and engineers with the opportunity to engage in research and development discussions and exchange knowledge on the topic of hot weather concreting, sustainable smart construction and design while emphasizing the recent advancements and 3D printing technology as a means of solving industrial challenges.
Furthermore, numerous keynote presentations and technical and industrial sessions were featured during the Forum, which focused on sustainability, hot weather building materials and 3D concrete printing construction. Additionally, the insights gained during the two-day event focused on ways to enhance construction productivity, safety and sustainability. Alongside, addressing challenges related to the utilization of 3D concrete printing technology for structural applications.
Over 200 individuals participated in the Forum, in addition to 60 attending virtually. Additionally, representatives from industrial companies and public sectors partook in various sessions and lectures throughout the event and demonstrated their expertise and knowledge in sustainable smart construction and 3D Printing.
Through this event, ADU aims to empower its students by offering world-class extracurricular and learning opportunities that allow them to gain research knowledge, elevate their skillset and provide them with innovative learning methods. During the Forum, ADU students showcased their sustainability-related projects during the poster and model presentation sessions of the Forum and the ASCE ADU student chapter participated by hosting their chapter's stand at the Forum.
On the first day, participants had the opportunity to take a tour in ADU's CoE 3D Concrete Printing Research Lab, which was inaugurated in mid-February 2023, the lab is a state-of-the-art facility that showcases the latest advancements in 3D concrete printing. The visit provided attendees with a firsthand look at the cutting-edge technology being developed and utilized at ADU. Furthermore, during the second day of the event, ADU hosted a 3D Concrete Printing Competition for high school students. The Competition drew the engagement of over 350 high school students and served as a unique opportunity to inspire and foster innovation among young minds. The event, titled the "1st ADU 3D Concrete Printing High-School Competition," allowed students to explore the University's cutting-edge 3D Concrete Printing Lab and engage in various student-oriented activities.
Dr. Hamdi Sheibani, Dean of the College of Engineering at Abu Dhabi University (ADU), said: "We are delighted to once again partner with Arizona State University, one of the USA's prestigious universities, to conduct the 4th ADU-ASU Research Forum 2023. Working closely with a strategic partner like ASU supports our mission of providing our students with a world-class education while empowering their critical thinking and research enthusiasm. It also prepares them to succeed in an increasingly competitive job market."
Dr. Samer Al Martini, Associate Professor of Civil Engineering at Abu Dhabi University (ADU) and Chair of the Forum, said: "The 4th ADU-ASU Research Forum 2023 serves as a remarkable testament to ADU's unwavering commitment to investing in scientific research opportunities that foster innovation and creative thinking among our faculty, students and community."
Prof. Narayanan Neithalath, the forum collaborator, from ASU, said: "We are proud to collaborate with Abu Dhabi University in hosting the 4th ADU-ASU Research Forum 2023. This event showcases the power of partnerships and the collective efforts in advancing sustainable design, 3D concrete printing, and innovative solutions in the field of construction. Together, we aim to create a lasting impact on the built environment and contribute to a sustainable future."
The College of Engineering is the largest engineering college in the UAE. It offers a range of engineering and technology programs at both undergraduate and postgraduate levels, with new and innovative programs being introduced on an ongoing basis.
Arizona State University (Arizona State or ASU) is a public research university in the Phoenix metropolitan area. Founded in 1885 by the 13th Arizona Territorial Legislature, ASU is one of the largest public universities by enrollment in the United States.
Home
>>
Education & Training Section