Home
>>
Fashion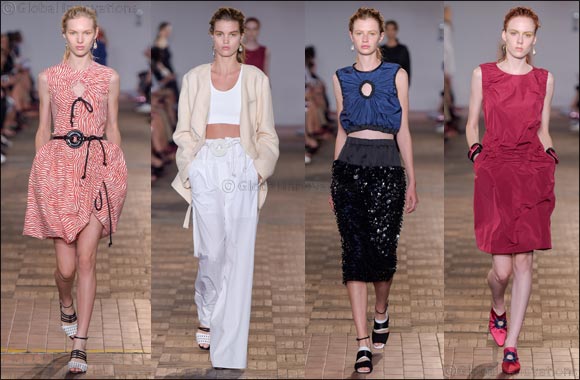 Sportmax Spring-Summer 2017
Dubai, UAE, January 11, 2017: Sportmax sought inspiration for Spring Summer 2017 from the pages of "Shima no Ama", a Japanese photo book by Kusukazu Uraguchi published in the early eighties. "Women of the sea" depicts pearl fishers amongst the waves and shoreline busy in their pursuit of the lustrous treasures. Between these faded monochrome pages were such current images, so dynamic, so fresh, so graphically pleasing. But what made them even more arresting were the broad smiles,happy expressions and a joy of life these women seemed to share. Carefree about their bodies, unaware of their beauty. Not posed, not perfect, not judged. Their joy almost lifting them from the pages.
In this collection Sportmax hopes to bring this playful optimism to life.
Fresh faced, hair pulled back and tucked away under a straw beanie. Long gold fish sway from one ear twinned with large baroque pearls on the other.
There is much skin on show in this collection. Youthful thighs stride from playfully tucked up skirts. Fresh, light fabrics blow away exposing bronzed limbs, artfully cut out backs pulled open with drawstring ties.
The colour pallet is largely made up of tones of fresh whites and creams which contrast boldly against deep navy's, intense blacks and inky indigo blues. Joyful magenta and rich lacquer reds define this paint box.
Fabrics are light and airy. Cottons softy hand-washed and unpressed, silks billowy, linens crumpled, some woven with tiny metal threads to retain their crushed worn effect. To accentuate the softness of the fabrics gathers are added. Some pieces elasticated with channels that contract to rouche the fabric, others have corded drawstrings which the wearer pulls to tighten a waistline, hoists up a side seam, or folds up and fastens at the waist to create a shorter soft bubble skirt. The drawstring can be found throughout the collection. A reoccurring motif being the gathered drawn dots which play peek-a-boo on bodices, patch pockets and pointy satin mules. Lengthen or shorten, tighten or release, the drawstring gives the wearer the freedom to play with proportion and fit.
Watery, undulating stripes make for easy graphic pattern play. Seen with Japanese block print fishes swimming up stream or floating chrysanthemum flowers, all navigate towards an oriental calm.
The new Sportmax bag SM207 dives into the mood of the collection. For the show it takes inspiration from an humble plastic washing basket, it features bold oval holes laser cut through dense rubbery leather, exposing the contrast colour of the butter soft drawstring bags within. It's dimensions cut almost too large for its keeper, the inner pouch spills over the sides. As the models walk, note the lightness of their step, so light they might start to skip. Slight spindle heels picked out in eggshell blues and lacquer reds support a delicate sling back or elegant satin mule.
As this summer starts to become a fading memory and tans start to pale, keep a spring in your step and a smile on your face and remember that all work and no play makes Jill a dull, dull girl.
Home
>>
Fashion Section