Home
>>
Food Industry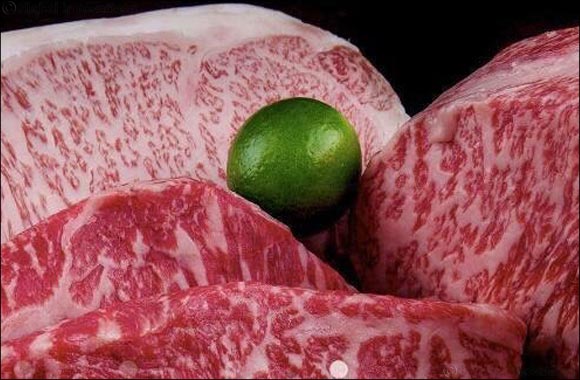 Middle East Fuji LLC exhibits the Gold medalist of Japanese branded "Kobe Beef" at Gulf Food
Kobe beef sales have risen 500% in UAE during 2017 and are expected to increase 300% in 2018
Dubai, 15th February 2018: Soft, Velvety, Buttery, Melt-in-your-mouth Kobe beef has inspired the world's most talented and skillful of chefs to create unforgettable gourmet experiences to perfection and this year Middle East Fuji LLC, one of UAE's leading one stop shop service provider for all marine needs, food concepts and ingredients from Japan and Far East to the region is participating at the Gulf Food Exhibition to showcase the highest genuine quality branded Japanese Kobe Beef with an original Japanese chef who will prepare authentic Kobe beef tasting at Hall 3 and Stand B3-2.
On its 23rd edition, the highly anticipated trade exhibition will run for five days, 18th till 22nd February at the Dubai World Trade Centre to bring together a series of insights, activities, excellence and creativity within the global food and drink industry. Mr. Ryusaku Hayashi - Managing Director, Middle East Fuji LLC said:"Kobe beef sales have risen 500% in UAE during 2017 and are also expected to increase 300% in 2018. We believe the number could triple in 2018 as demand for the beef rises".
Middle East Fuji has achieved 500 percent sales growth in terms of its distribution of premium Japanese Kobe beef in the UAE in 2017 compared to 2016, according to figures by managing director Ryusaku Hayashi. While the firm imported only one carcass of Kobe beef to the UAE in 2016, it brought five whole carcasses to the country in 2017. Hayashi believes the number could triple in 2018 as demand for the beef rises. It currently retails at an average $462 (AED1,700) per kilogram.
"We are now targeting to achieve 300% of our 2017 figures in 2018 and then further double it in 2019. It is of course an ambitious target, but we believe it is achievable as we continue to strengthen and grow awareness of our highest genuine halal quality Japanese Kobe beef at leading sector events such as Gulf Food. For now, the firm is working on raising awareness on the health benefits of Kobe beef, which will simultaneously increase demand in the region. As the product is premium and niche, Middle East Fuji is limiting its offerings to high end specialty restaurant and direct VIP customers."
Saeed Al Malik, President and CEO, Middle East Fuji, LLC said, "Our strongest markets for Kobe beef in the region are the UAE and Oman. We plan to venture into Saudi Arabia very soon. Middle East Fuji LLC has been growing in the Middle East industry for past 3 decades. Since the time we established ourselves, we have cultivated good relationships with our partners and stakeholders while ensuring the highest premium halal quality kobe beef to our customers."
Located in the heart of Downtown Dubai, Kohantei is the UAE's only Japanese fine dining 'Kaiseki' experience and one of Middle East Fuji's largest customers of Kobe Beef. Spokesperson Chef Ueda testified, "If there were an Olympic Games of beef, Middle East Fuji's supply of Kobe Wagyu beef would be the run-away gold medalist as the best beef in the world."
Home
>>
Food Industry Section