Home
>>
Entertainment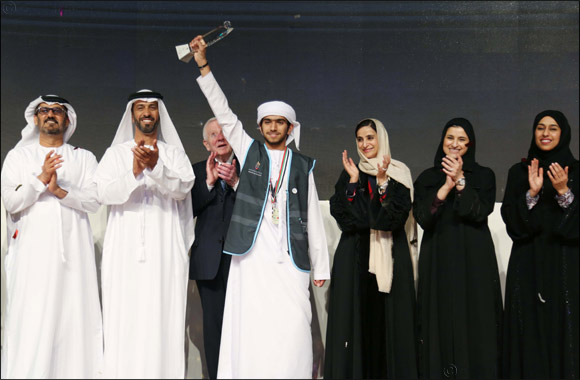 Minister of Education Announces Qasr Al Bahr Initiative at NSTI Festival and Grants Sultan Binbader the UAE Young Scientist Award
HE Hussain Ibrahim Al Hammadi announces that 7 of the winners will be hosted at Qasr Al Bahr in Abu Dhabi and get the chance to meet to HH Sheikh Mohamed bin Zayed Al Nahyan and explain their innovative projects to HH.
UAE Young Scientist Award goes to Sultan Binbader from Alrefah School for his 'Emergency Robot' project.
6 UAE Ministers take part in the student retreat discussions and listen to students challenges and aspirations.
Winners of 3D competition announced
Dubai, 21 February 2018: The National Science, Technology and Innovation (NSTI) Festival organized by the Ministry of Education and held under the patronage of HH Sheikh Mohamed bin Zayed Al Nahyan, Crown Prince of Abu Dhabi and Deputy Supreme Commander of the UAE Armed Forces concluded with the Award Ceremony that recognized 24 students for their outstanding 8 projects and 3 ideas. During the ceremony, HE Hussain Ibrahim Al Hammadi, UAE Minister of Education announced that 7 of the winners will have the honor of meeting HH Sheikh Mohamed bin Zayed Al Nahyan in person at Qasr Al Bahr in Abu Dhabi to explain their projects.
Sultan Binbader from Alrefah School received the prestigious UAE Young Scientist Award with the 'Emergency Robot' which is a self-controlled robot that offers 11 important services and to be placed in public areas for firefighting, ambulance emergency cases, automatic cleaning premises, filling tires with air, charging mobile phones and much more.
On this year's participation HE Hussain Ibrahim Al Hammadi, said, "At the second edition of NSTI Festival we have made significant progress in the level of projects that have been submitted by students. We have started to reap the developments we have made to the education sector and Emirati schools. The student's capabilities and skills have developed, even the way they have presented their projects, and worked as a team have shown progress. This year we saw them confidently speaking about their projects and it demonstrated a full understanding of the project rather than memorising a script."
Technology category
The winners of the senior group in the Technology category were Hamdan Ibrahim & Khalifa Al Sheebani from Applied Technology High School with their project 'Automatic air pollution system with neutralization of gases ratio for healthy air.
The winner of the intermediate group in the Technology category was Methayel Alsereidi from Al Fujairah Preliminary Girls School with her project 'Smart Pharmacy' project.
Biological and Ecological Sciences
The winner of the senior group in the Biological and Ecological Sciences Category was Mohammed Alqassim from Alsharawi Secondary School with his project 'Equine Reproduction'.
The winners of the intermediate group Rayan Almaazmi, Abrar Alshihhe, Dalal Almuaini and Shaikha Alawadhi from Al Nouf Elementary School with their project on the effects of different beverages on tooth enamel.
Social and Behavioral Sciences
The winner of the intermediate group in the Social and Behavioral Sciences category were Maryam Albalushi, Ghana Almatrooshi, Sundus Alqatali, and Alyazia Alzaabi from Mawahib British PVT School for a project to test the effect of sleeping time in relation to student attainment.
Chemical, Physical and Mathematical Sciences
The winners of the senior group in the Chemical, Physical and Mathematical Sciences category were Saif Almansouri, Abdalla Almuaini and Ibrahim Dahdal from Alkhaldia Primary and Secondary School for their Project 'Blood Fertilier'.
The winners of the intermediate group in the Chemical, Physical and Mathematical Sciences category were Hamda Essa, Sumaya Ahmad, Hind Tareq from Nadd Al Hamar School for their project 'Bathbomb
Fikrati
The winners from the kindergarten level in the Fikrati Competition were Shamsa Adel Almarbooei and Hamda Adel Almarbooei from Al Tomooh School for their idea the 'X-Ray Robot'.
The winners from the Grades 1-3 Category was Shujoon Nasser Abdelkareem, from Atiqa bint Zayd Preliminary School with her idea 'Portable Bookshop'.
The winner of the Grades 4-5 Category was Dana Homoud AlShehi from AlQurayaa School with her idea 'Hydro Toilet'.
Student Retreat
The NSTI Festival also hosted a student retreat that saw the participation of 100 students from schools across the Emirates. These students have been selected by the Ministry of education from hundreds that have registered to be part of the retreat to discuss important topics related to education and students challenges and their aspirations in front of Ministry officials.
The student retreat was visited by several Ministers that have taken part of the discussions with students and include HE Hussain Ibrahim Al Hammadi, UAE Minister of Education, HE Dr Thani bin Ahmed Al Zeyoudi, Minister of Climate Change and Environment, HE Noura bint Mohammed Al Kaabi, UAE Minister of Culture and Development, HE Dr. Maitha bint Salem Al Shamsi, Minister of State, HE Jamila Bint Salem Al Muhairi, Minister of State for General Education at the Ministry of Education, HE Mariam bint Mohammed Saeed Hareb Al Mehairi, Minister of State for Food Security. In addition, HE Eng. Abdulrahman Al Hammadi, Undersecretary for supervision and supporting services at the Ministry of Education and HE
Dr. Amna AlDahak AlShamsi, Assistant Undersecretary Activities sector and Director of Innovation and Entrepreneurship Department at the Ministry of Education were present at the student retreat.
The 10 topics for the year included; positive environment, media, school clubs, Year of Zayed, national and international tests, Artificial Intelligence, Cybersecurity Awareness, advanced skills, empowering people with determination and Food Security and Safety.
The students were divided into groups of 10 with each focusing on a topic of their interest. Once the sessions are finished one initiative will be the outcome of each group and implemented by the Ministry of Education. The Ministry of Education will take forward and implement one of the initiatives chosen from those raised by the students.
UAE Minister of Education H.E. Hussain Ibrahim Al Hammadi said. "I was delighted to see the level of maturity of these students while discussing topics in efforts to solve specific challenges. We anticipate that through the student retreat we will develop ideas and suggestions that will benefit the UAE education sector."
The Conference
On the fourth day of the conference, H.E. Jamila Bint Salem Al Muhairi highlighted the connection between sciences and arts. She encouraged students to ask questions that fulfil their curiosity in search for answers to get educated and not just rely on traditional methods of receiving information. She also touched upon the importance of innovation, technology and sciences and UAE's efforts in making education fun and encouraging students to solve problems in a creative way. She also commented on the new international exams that will be implemented as of April to students, which include the Programme for International Student Assessment (PISA) that measures performance in mathematics, sciences and reading.
Amal Al-Jabri, Chief Executive Officer of Cognit talked about Artificial Intelligence (AI), giving students a brief history of AI and talked about human strength versus machine. She stated "humans will always be better at the loftiest cognitive tasks. People can develop and change faster than a computer." She also highlighted that technology helps humans achieve their goals and that AI plays the role of an enabler. In addition, she touched upon the role of governments in reaping the imagination of young people and promoting an innovative environment.
Dr. Rick Sommer, Executive Director of Pre-Collegiate Studies Stanford, focused on how to inspire creativity in students and some of the methods they use.
3D Printing Competition & Science Fair
This year, 100 projects were displayed at the Science Fair by 233 students, meanwhile 77 of the ideas submitted on behalf of 89 elementary students (from Kindergarten to grade 5) were pitched at Fikrati. At tomorrow's awards ceremony the winners will be announced in each of the four core awards, STI awards, Fikrati and Industrial Revolution X Program and the one lucky winner of the Young Scientist Award. In addition to the Awards Ceremony, Al Hammadi said there will be a major announcement made on the award winners.
At the 3D competition, a total of 25 projects were on display from 100 students. The first-place winner from cycle three was smart shopping trolley, spring park from cycle two and Dubai Rehabilitation Centre from cycle one.
Commenting on the 3D competition, Al Hammadi said "In previous years, it used to take months from concept to design then to produce and test, now we can get it done in a few hours. Students can now design solutions, build models and test them in just hours. This technological advancement is outstanding and will benefit our students greatly."
Memorandum of Understanding
H.E. Abdulrahman Al Hammadi, Undersecretary for Supervision and Support Services at the Ministry of Education and Dr. Tony Scott, Co-Founder of Young Scientist & Technology Exhibition signed a Memorandum of Understanding in the presence of HE Jamila Bint Salem Al Muhairi, Minister of State for General Education at the Ministry of Education, Paul Kavanagh, Ambassador of Ireland and a representative from Enterprise Ireland.
The MoU was signed to create a framework to promote scientific and innovative cooperation between the two parties and to enable the Ministry to benefit from the Young Scientist Exhibition's vast experience in organizing innovative competitions amongst students of all ages for over half a century. In addition, it will help establish a program to put in place an annual competition and Exhibition modelled on the Young Scientist and Technology Exhibition.
The Ministry of Education signed a MoU with Technorama to utilize personnel, knowledge and expertise in efforts of establishing a Science Centre in the UAE. The MoU was signed by H.E. Marwan Ahmad Al Sawaleh, Under Secretary for Academic Affairs at the Ministry and Mr Jorg Moor, Technical Manager at the Swiss Science Center Technorama.
Home
>>
Entertainment Section