Home
>>
Technology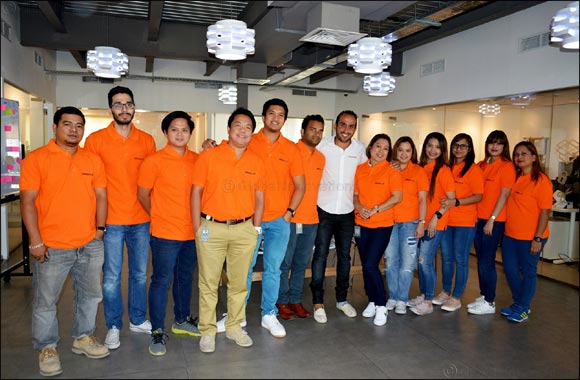 Yalla Pickup transforms the transportation business in the UAE through its digital platform
The Yalla Pickup app allows a smartphone - Android or iOS or web user to transport large-sized valuable goods by booking the nearest truck from the convenience of office or home.
Dubai, March 13, 2018: Yalla Pickup, the UAE-based mobile application and web-based logistics services company, has launched the next phase of its mobile application, which will be targeted towards commercial requirements. Yalla Pickup has launched this service in partnership with The Box Self Storage Services, a provider of self-storage, mini warehousing and moving services with over 10 years' experience in the UAE.
Catering to both businesses and individual customers, Yalla Pickup allows a smartphone - Android or iOS or web user to transport large-sized valuable goods by booking the nearest truck from the convenience of office or home.
Yalla Pickup has now launched the next phase of its already successful app to bring unparalleled moving and transport solutions to businesses in three distinct categories – last mile delivery, delivery management system and survey management system.
Speaking about the new services, Elie El Tom, Founder and CEO of Yalla Pickup, said, "Our strategic alliance with The Box has added another feather to our cap as a unique startup. From offering services to moving companies, individuals and businesses we are now expanding towards delivery management, on spot delivery and survey management. This will not only give us an edge but propel us as a one stop solution for individual and commercial goods transportation in the UAE. Through our services we hope to build a fast and secure goods transportation system that not only provides timely service but also a seamless experience".
"Being an app-based system, the convenience is unparalleled. By creating an account on our app, our customers can easily hire required services. We have often seen managing a fleet as being extremely tedious and expensive for our clients and we hope to provide ease through our new services. Our aim is to increase our fleet to 500 pickup trucks across the UAE by the end of 2018 and sign up 300 businesses this year. We have seen a month on month revenue increase of 40 per cent since our launch in 2016," El Tom added.
Commenting about the services and partnership Wadih Haddad, Founder & CEO of The Box, said, "We have been associated with Yalla Pickup for nearly a year and are excited for the launch of the second phase of their app. It caters particularly to commercial sector and will appeal to the digital needs of any business that requires transportation. The vision with which Yalla Pickup began and has grown is truly commendable and we are happy to be a part of their success story.
Having a pickup and delivery service at the tip of our fingers is quite unique in this part of the region and Yalla Pickup has broken that barrier. As a storage and transportation company, we understand the need for such services and have seen a growing need for convenient transportation in the market. It gives us immense pleasure to be in this with Yalla Pickup."
Last mile delivery is effectively tailored for businesses that require transportation services but do not own a fleet. The service caters to requirements that are current and immediate. Particularly benefitting stores or online shopping portals that provide heavy products or items like furniture that need to be transported to a customer's home. A business like this does not require a full-fledged fleet system on a regular basis and instead of increasing the operational cost by adding vehicles to the company's inventory, Yalla Pickup's last mile delivery system provides the ease of booking transport for service fulfillment without the hassle of owning a transport vehicle for delivery purpose.
The delivery management system is tailored for businesses that have their own fleet and for those that outsource their fleet to other vendors. The system allows businesses to have full visibility of their existing and or hired fleet; allowing companies to assign tasks to the drivers via the web portal and monitor the activities of the drivers that are on duty, understand who have accepted the job, when was the job started, loading, arrival and offloading time. The fleet management system saves time and hassle of resource management for organizations that own large or small fleets.
Survey management system allows moving companies to have full visibility on their surveyors. The moving companies can assign a survey to a nearby surveyor and monitor arrival time of the surveyor via the web portal to ensure that the surveyor has reached the site at the client's selected time.
Yalla Pickup currently has services in the UAE only with plans to expand into KSA, Oman, Kuwait and Bahrain between 2019 and 2021. The Box operates in Dubai, Abu Dhabi and Beirut currently.
Home
>>
Technology Section