Home
>>
Education & Training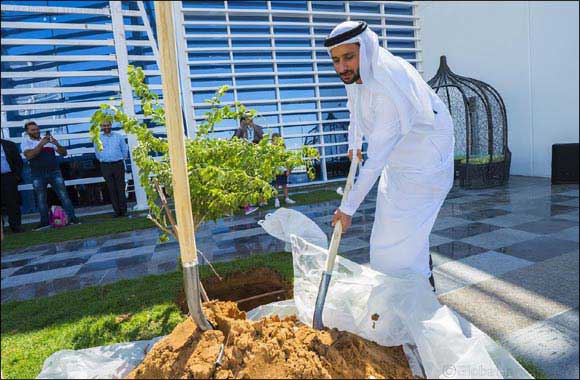 Dubai Heights Academy Marks Ghaf Tree Planting Ceremony
Students and parents joined Dubai Heights Academy in replanting Ghaf trees as a symbolic gesture showing the school's commitment to environmental protection.
Dubai, UAE - March 21, 2018 – The Dubai Heights Academy, led by Mr. Andrew Prosser (Principal) and Mr. Abdullah Bin Sulayem (Chairman of Seven Tides), held a special tree-planting ceremony at the campus to officially make these perennial plants a part of the Dubai Heights Academy community for many years to come. The event also granted the opportunity for Dubai Heights Academy to exhibit its new state of the art Primary Building which is preparing for new students this coming September.
"These two trees had to be an integral part of the school and there to greet all visitors as they first set foot on the campus," said Mr. Prosser.
These two ghaf trees were initially standing in the empty plot where the school's set to be built. Before the school's construction began, the trees were then relocated to a safe area. Now, these ghaf trees are back to their rightful place – at the heart of Dubai Heights Academy.
The event kicked-off with a touching song, "The Earth Song" by Year 1 to Year 5 students of Dubai Heights Academy. This was followed by an introduction and speech by Mr. Prosser, who gave a brief message about the importance of trees in the community; and Mr. Sulayem, who also discussed the role that ghaf trees play in the UAE's rich tradition and culture. From a building site in Al Barsha South rose Dubai Heights Academy, which has now expanded into a prestigious education hub for students, housing state-of-the art technology classrooms and facilities and separate FS, Primary, and Secondary school buildings.
Mr. Prosser said: "Trees are an important part of every community. Our streets, our parks, playgrounds and gardens are lined with trees that create a peaceful, aesthetically pleasing environment. Trees increase our quality of life by bringing natural elements and wildfire habitats into urban settings."
The national tree of the UAE, ghaf tree holds an important role in the community and a valuable part of tradition and culture of the country. The natural regeneration of the tree is limited and the species is considered as near-threatened. Therefore, it is extremely important to protect and conserve ghaf trees.
True to its aim of providing kids with a safe and secure environment and a positive educational experience, Mr. Prosser stressed how the tree planting event signifies nurturing and educating children as environmentally-responsible future leaders.
"Many of our young children will grow with these trees, firmly establishing their roots and branching out in many directions based on their interests and desires. We [Dubai Heights Academy] will be there to support and provide them with essential elements to enable them to grow to their true potential."
The students of Dubai Heights Academy also took part in planting the trees with their own shovels and watering cans. Likewise, parents and teachers also expressed their support to the event, which promotes the school's green ethos.
Ms. Nema, a mom of Year 1 and Year 3 students said, "I'm excited to see how the school is coming up with new activities and facilities for my children. We're very happy about this unique open day event."
A Learning Support Teacher from Dubai Heights Academy added, "I'm just really glad that the school was able to organize this unique activity which involves students in environmental initiatives. I'm excited that I'm a part of this historic day!"
Quoting the late Sheikh Zayed, "A country's greatest investment is building generations of educated and knowledgeable youth," Mr. Prosser ended his speech with a great remark for educators and parents alike. "This is the reason why we are all here together today. Every one of us is aiming for this at a personal, family, and community level."
Home
>>
Education & Training Section