Home
>>
Lifestyle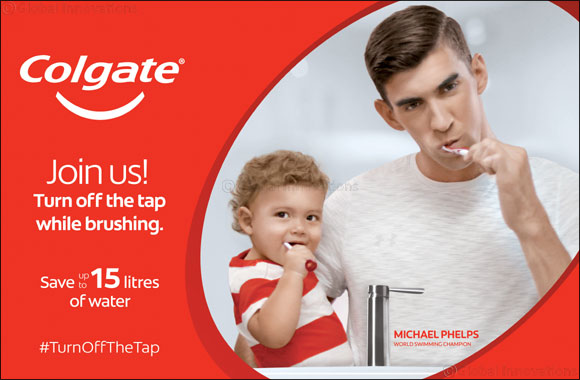 Colgate and Michael Phelps' 'Save Water' Campaign makes waves and encourages UAE Residents to Turn off the Tap
The campaign aims to inspire people to turn off the tap while brushing their teeth to Save Water
Dubai, UAE, March 21, 2018: Colgate-Palmolive has announced the launch of its "Save Water" campaign In the GCC to inspire millions of people to turn off the tap while brushing their teeth and conserve millions of liters of water.
The one-month long campaign will be rolled out across television, social media and digital platforms featuring record breaking Olympic Champion Swimmer Michael Phelps who has helped to shine an international spotlight on the importance of saving water. The campaign's ultimate global goal is to reach and educate 100 million adults and 10 million children around the world about the importance of turning off the tap while brushing their teeth.
According to Colgate, the average person can save up to 15 liters of water each time they brush their teeth if they just simply turn off the tap between rinsing. And assuming this is a twice a day activity, that means each person can save up to 30 Liters of water per day.
Marios Tirkides, Marketing Director at Colgate-Palmolive, said: "Olympian Michael Phelps has spent his career in water and he is the perfect ambassador to help Colgate spread the message of water conservation around the world. We hope that launching the campaign in this part of the world will help us reach millions of GCC consumers and educate them about the importance of water and encourage good habits for the future."
As part of the Save Water campaign, Colgate is also launching a #TurnOffTheTap social media awareness campaign here in the Gulf region. 'Turning' is all it takes to close the tap and save liters of wasted clean water. Therefore, Colgate is asking all social media users to turn their photos around on Instagram and Facebook using the hashtag #TurnOfftheTap as a way to signify their pledge to conserve water when they brush their teeth.
Home
>>
Lifestyle Section