Home
>>
Government, Legal & Humanity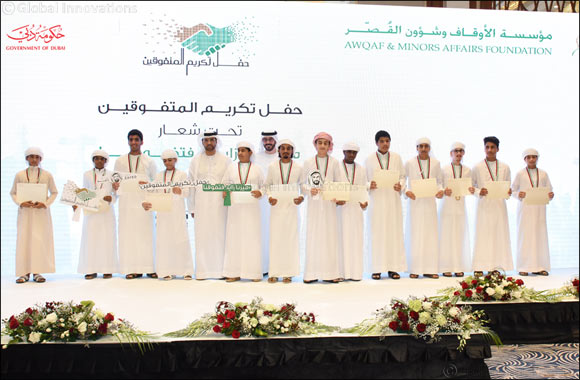 Awqaf and Minors Affairs Foundation Honors over 200 Students for Outstanding Academic Performance in 2017
Dubai-UAE: 15 April 2018 – Awqaf and Minors Affairs Foundation (AMAF) held a felicitation ceremony to recognize the achievements of more than 200 school and university students under its care for scoring above 85 percent during the 2017 academic year.
His Excellency Ali Al Mutawa, Secretary General of AMAF, and His Excellency Khaled Al Thani, Deputy Secretary General of AMAF graced the honoring ceremony that was attended by AMAF department heads and employees, and several business leaders in the UAE.
As part of its mission to enable the less privileged segments of the population, AMAF spent over AED35 million during 2017 to support health, education and social care. Of this amount, over AED 3 million was allocated for the education of more than 763 minors and to provide educational assistance to children with learning differences. In addition, AMAF paid the education fees and offered study requirements for children of several low-income families.

The Foundation also signed multiple agreements and partnerships with leading educational institutions towards improving the skills of minors and enhancing their educational experience.
His Excellency Ali Al Mutawa said: "Our new cohort of successful students enhances our confidence in a generation that is determined to contribute to our nation's growth and help boost its position globally in scientific and cultural fields. We are proud of our minors for their academic excellence and for imbibing rich values and principles that they can draw upon while building solid and meaningful careers."
Addressing the students, Ahmad Hasan, Head of Minors Department at AMAF, said: "The future of any civilized nation lies in its educated and enlightened people. Their advancement and in consequence the progress of nations is measured by the level of education, its accessibility, and its contribution to preparing an empowered generation.
"As we celebrate our high achievers today, we also reaffirm our commitment to the legacy of the founding father of the UAE, late Sheikh Zayed bin Sultan Al Nahyan, whose vision played a key role in advancing education and elevating the UAE's human capital. At AMAF, we are committed to nurturing future generations in order to contribute to the UAE's socioeconomic development begun by our founding father and taken forward today by our wise leadership. In this regard, we are proud of the accomplishments of our youngsters who have overcome all challenges and made excellence their way of life."
The felicitation ceremony also included the screening of a short documentary film that highlighted AMAF's most notable initiatives and projects till date during the Year of Zayed. The film reiterated the Foundation's efforts in providing support to minors' education to enable them to serve their society and nation as well-informed citizens.
Home
>>
Government, Legal & Humanity Section