Home
>>
Government, Legal & Humanity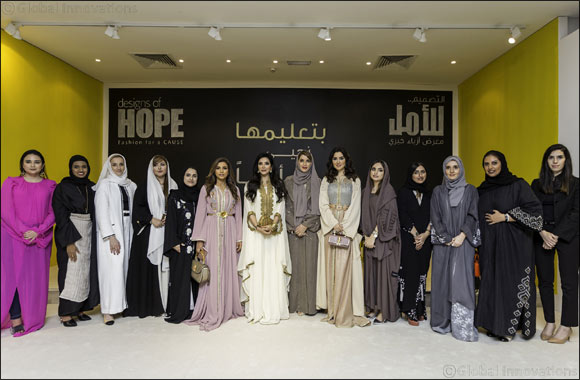 Dubai Ladies Club in partnership with 'Brides do Good' to open 'Designs of Hope' exhibition on May 2
Donations have exceeded 100 wedding gowns by international designers and more than 1000 abayas and kaftans created by 26 distinguished UAE fashion labels
Iconic designer Rami Al Ali has donated a wedding gown worth AED 100,000 and Emirati Influencer Mthyael Al Ali has contributed her own Oscar de la Renta wedding dress
Proceeds will support girls' education in developing countries
Lamia Abdulaziz Khan: "Providing access to high quality education for girls will have a sustainable impact on the cultural, social, health and economic aspects of societies."
Chantal Khoueiry: "When girls become agents of change, when we invest in their education and when we provide them with opportunities to reach their full potential, then they can forge their own pathway in life and we can achieve a safer, healthier and more prosperous future for all and for generations to come."
Dubai, 25 April, 2018: Dubai Ladies Club is set to host its fifth and largest annual charity fashion exhibition, 'Designs of Hope', which will take place this year as a bridal edition from May 2 – 7, 2018. The event is being held under the patronage of Her Highness Sheikha Manal bint Mohammed bin Rashid Al Maktoum, President of Dubai Ladies Club and wife of His Highness Sheikh Mansour bin Zayed Al Nahyan, UAE Deputy Prime Minister and Minister of Presidential Affairs and in support of Al Manal Humanitarian Initiative's 'teacher' campaign.
The charity exhibition will be hosted in partnership with social enterprise and online boutique, 'Brides do Good', and feature over 100 luxury brand and pre-loved wedding dresses donated by bridal designers, retailers, influencers and members of the public, to be sold at a 50 to 75% markdown from original retail prices.
Since the announcement of this year's bridal edition, Dubai Ladies Club has received an influx of generous donations in support of the noble cause. Iconic designer Rami Al Ali joined the exhibition by donating a wedding gown worth AED 100,000 to further girls' education.
Key Emirati influencers are also proactively joining the cause with their own contributions. Mthyael Al Ali has donated her own Oscar de la Renta wedding dress to help expand the reach of the initiative and drive its impact forward. Members of the public are also encouraged to donate their wedding gowns to support the exhibition.
Additionally, the event will feature 1000 designer abayas and kaftans donated by 26 distinguished UAE fashion labels and designers to be sold at an exclusive price of only AED 1,000 each. During the event, designers will also showcase their latest Eid collections of abayas.
Funds raised from the event will go towards the 'teacHER' campaign to support a comprehensive educational programme in Ethiopia. The campaign will be implemented in cooperation with Plan International, a humanitarian organisation that works across 71 countries to advance children's rights and equality.
The educational project will support six schools in host communities with 18 new classrooms, new latrines, and learning materials, as part of a broader programme developed to reach 39,550 refugee and local children between the ages of 3 and 14 in Ethiopia. The project involves running accelerated remedial classes for children who have fallen behind, training teachers on how to give vulnerable children, particularly girls, post-trauma counselling and help, and establishing community-learning hubs to increase adult literacy and support mothers as mentors and champions of girls' education.
Lamia Abdul Aziz Khan, Director of Dubai Ladies Club, said: "The 'Designs of Hope' exhibition comes in line with Dubai Ladies Club's commitment during the Year of Zayed to celebrate the legacy of the UAE's founding father, whose generosity and charitable work positively impacted the lives of people across the globe. The exhibition is also a reflection of the humanitarian efforts of Her Highness Sheikha Manal bint Mohammed bin Rashid Al Maktoum and her dedication to empowering girls through education in order to enhance their contribution to economic and social development. Providing access to high quality education for girls will have a sustainable impact on the cultural, social, health and economic aspects of societies."
She continued: "Corporate Social Responsibility has been a key element of the Club's strategy since its establishment in 2003. As such, we have supported and implemented various educational, environmental and health initiatives. Through this exhibition, we are aiming to give hope to girls who face challenges in accessing a high quality education, and raise awareness about the difference just one wedding dress can make in the lives of hundreds of girls around the world."
"We are proud to partner with 'Brides Do Good' in organising this bridal edition of the 'Designs of Hope' exhibition and we would like to extend our thanks to Plan International for implementing the 'teacHER' campaign this year," added Khan.
Chantal Khoueiry, founder of Brides do Good, commented: "We are honoured to partner with Dubai Ladies Club for our first pop-up store in the UAE, in support of Al Manal Humanitarian Initiative's 'teacHER' campaign. We are coming together to create positive change whilst making dreams come true. When girls become agents of change, when we invest in their education and when we provide them with opportunities to reach their full potential, then they can forge their own pathway in life and we can achieve a safer, healthier and more prosperous future for all and for generations to come."
She continued: "Through education and empowerment, our ultimate goal at Brides do Good is to support the United Nations in achieving its sustainable goals of inclusive education for all by 2030. The funds raised through this partnership will be donated to our charity implementation partner, Plan International, who work tirelessly on advancing children's rights and equality for girls worldwide. The funds will directly touch vulnerable young girls in Gambella's refugee camps in Ethiopia. Purchasing a dress in the 'Designs of Hope – Bridal Edition' exhibition means that dress by dress, we can truly make a difference to the lives of millions of vulnerable young girls. Please join our movement Connecting Women, Protecting Girls."
The Designs of Hope exhibition will feature donated wedding dresses from renowned international bridal designers including Marchesa, Vera Wang, Rosa Clara, Sassi Holford, Elie Saab, Valentino, Reem Acra, Peter Langner and Provonias, alongside showrooms from UAE-based designers, including Contessa and Esposa Group.
The event will also showcase exclusive collections of abayas and kaftans from distinguished designers including Nafs; Wings Collection; Designers Empire; Moonoir; Fary; The Wrap; By Zahy; Bouguessa; Nabrman; Elna Line; Moza Collection; R-Design; 1001; Anatomi; Bint Thani; Three Dots; Huda Alnuaimi; Slouchyz; Le-Voile; Posearazzi; The Cousins; I am Mai; Elilhaam; Fooladi; Ibriz Couture and Selma Benomar.
Guests attending the exhibition are welcome to join the movement and give their wedding dress a new chapter by making a donation to the Brides do Good.
To further the impact of 'teacHER' campaign and raise more funds in support of its noble cause, Dubai Ladies Club in collaboration with Brides do Good will continue to showcase and sell the pre-loved luxury bridal gowns from the 'Designs of Hope – Bridal Edition' exhibition at a bridal pop-up shop, which take place from May 8 – 14, 2018 at The Courtyard in Dubai Ladies Club.
Past editions of Designs of Hope
The debut edition of Designs of Hope in 2013 was held in support of "Noor Al Hayat" – the Al Manal Humanitarian Initiative's first project, launched in collaboration with Noor Dubai to support the prevention and treatment of 1 million patients suffering from sight ailments in various regions throughout the world.
The second Designs of Hope exhibition in 2014 raised funds for the "UAE Water Aid Initiative", launched to provide 5 million people in developing countries with improved access to safe drinking water, hygiene and sanitation.
The 2015 edition of the exhibition contributed to the "UAE Initiative for Connection with Orphans and Minors" which was supported by The Cultural office of Her Highness Sheikha Manal bint Mohammed bin Rashid Al Maktoum's "Selah" art programme. The national initiative helped underprivileged children and orphans to develop self-awareness, cognitive and creative skills through the therapeutic value of expressive arts.
The latest edition of the exhibition in 2017 marked the launch of the Al Manal Humanitarian Initiative's 'teacHER' campaign. Proceeds went towards building two primary schools in Nepal and Senegal and supported a girls' education programme in Egypt.
Home
>>
Government, Legal & Humanity Section