Home
>>
Education & Training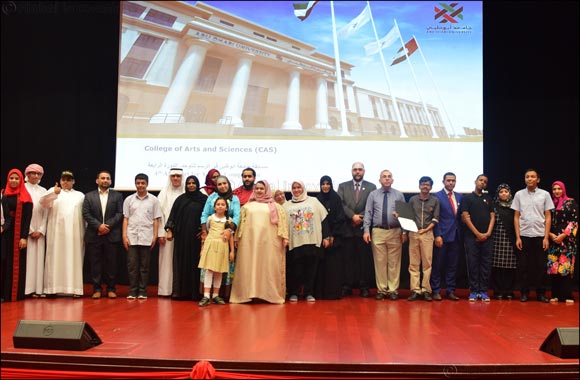 Abu Dhabi University Honors Winners of 'Art for Autism' Contest
Abu Dhabi-UAE: 25 April, 2018 – The College of Arts and Sciences at the Abu Dhabi University (ADU) honored 10 winners of the fourth Art for Autism competition that was organized in collaboration with the Abu Dhabi Music and Arts Foundation to coincide with World Autism Awareness Month.
The awards ceremony was held in the presence of Dr Khawla Al Saadi, Chairman of the Emirates Autism Society, His Excellency Salem Mubarak Al Dhaheri. Executive Director of Community Relations at ADU, Dr Hamdi Sheibani, ADU's Dean of the College of Arts and Sciences, as well as faculty members and students of Abu Dhabi University.
The competition received more than 110 artwork entries in Category A and Category B. Category A was tailored for children from 6 to 11 years, while Category B drew the participation of individuals between the age of 12 and 25. This year, the competition also received submissions from autism centers and special needs schools across the UAE.
The winners of the fourth edition of Art for Autism competition in Category A included Khalifa Mohammad, Khalid Aden, Faisal Ali, Salem Al Khalbani, and Malek Al Ash, while Salman Shaker, Shuaib Jalil, Asma Al Balushi, and Asma Hamid were named winners in Category B.
His Excellency Salem Mubarak Al Dhaheri, Executive Director of Community Relations at ADU, said: "The artistic contributions of the young participants were deeply introspective and touching. The submissions gave us an insight into the wonderful world of autistic children and young adults. The competition was organized as a dedication to the vital role they play in our societies and the importance of raising awareness on their condition. ADU will continue to organize interactive and worthwhile events and activities as part of our priority to engage with all members of society."
Highlighting the importance of the competition, Dr Hamdi Al Sheibani, ADU's Dean of College of Arts and Sciences, said: "The Art for Autism competition comes as a part of the annual Autism Awareness Month to celebrate the often overlooked creativity of people with an Autism Spectrum Disorder. It is also an effort to educate our communities about their talents and dispel the myths surrounding this condition."
Home
>>
Education & Training Section